Accomplished poet explores passion, sense of identity at SEU event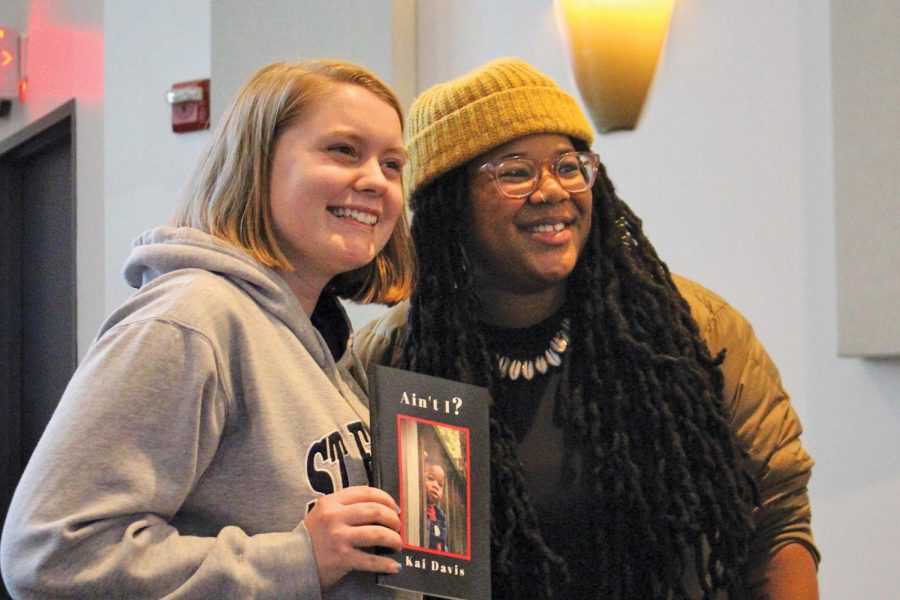 Daniela A. Urda Vazquez, Staff Writer
February 25, 2019
Last Wednesday, every corner of Jones Auditorium was filled with emotion. Writer Kai Davis, hosted by Black Student Alliance (BSA) and PRIDE, gave a powerful performance of spoken word poetry. It was her strong poems and funny stories that captivated the audience, who went from listening to poems that talked about difficult topics like abuse and racism to singing "row row row your boat" to lighten the mood.
Each time Davis's facial expression would change, the audience knew they were going to hear verses extraordinary enough to make them snap their fingers. Her movements conveyed a passion so vibrant, so unique, so honest that it raised a fire on the stage. She gives a voice to those who are not heard and carries their stories presenting them to raise awareness, revolutionize and call for change.
During the Q&A session following her performance, Davis described what her pieces push for.
"I feel like the majority of my work is to advocate for black women and to advocate for black queer women," Davis said.  "It's one of those topics that is just so important that I feel like I can't run out of saying 'hey, this is actually f—ed  up.' And I just love black women. They are the people who have helped me the closest and supported me the most, so it's important that I speak on my outcast at all times," she added.
Many students asked for advice on how to cope with some of the situations she discusses in her poems.
"One thing I always say is it's not necessarily about what you say in that space, although that is how you represent yourself— how you talk, what you say," Davis said. "But it's also who is behind scenes supporting you. The reason that I gained my confidence in high school and college was because there was a community of people who were affirming me, who were encouraging me."
After the event, Davis stayed to sell her books and talk personally with audience members. Many of them commented on how inspiring her performance was.
"This event meant a lot because I really love Kai Davis and her poetry. She is really inspiring as a queer woman of color who is out here speaking about these things," said student Cyerra Gage.
"We really wanted this event to be something for black people and something for black queer people…we wanted to have something that was going to be well received by the audience," said Brieanna Bowman, president of the Black Student Alliance. "She was awesome. Her poems are great. She made us feel relaxed and welcome—an overall great experience."