Students for Sustainability organizes rally in support of climate refugees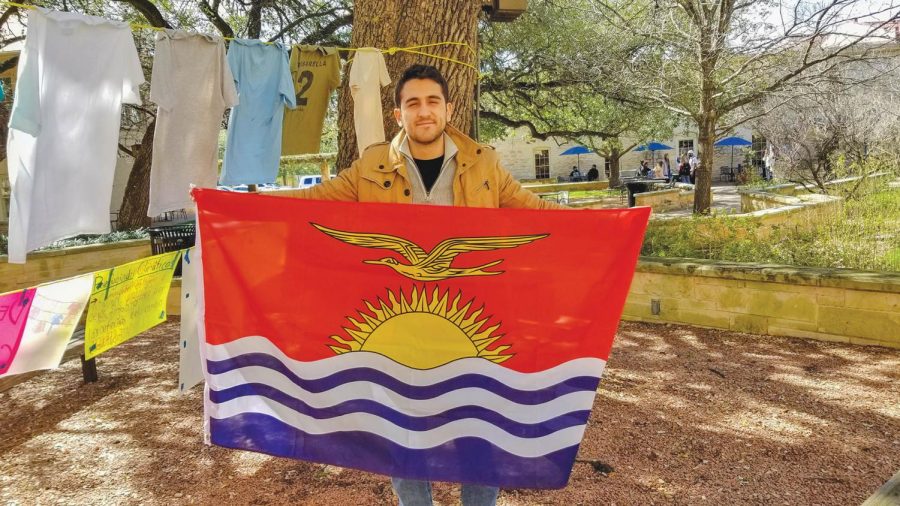 Andrew Dunklee, Staff Writer
February 26, 2019
Students for Sustainability organized a rally on Feb. 20 to raise awareness for the issue of climate refugees. The rally featured 4 different SEU students who voiced their discontent to a crowd of dozens about the policies of the United States, the UN and the industrialized world that leave people across marginalized countries vulnerable to the effects of climate change.
"The least industrialized countries suffer the most from the climate decisions of the most industrialized," said Jesse Green, one of the event's speakers.
The purpose of the rally was to broadcast to the university that the St. Edward's campus and administration should commit itself to adhere to the protocols of the Paris Agreement, even if the United States government does not require it. They also stated that the US and other nations should change their legal definitions of refugees to include people that are displaced from climate change.
The group organized a t-shirt drive throughout the week, aimed to help provide clothes for Casa Marianella, a local non-profit that provides resources to refugees in the Austin community.
"Many people are displaced from their homes because of the changing climate…the t-shirt drive symbolizes how many of those people are and will be forced to travel without luggage," said Miguel Escoto, co-president of Students for Sustainability.
Climate change is negatively impacting communities around the world, like the island of Kiribati in the South Pacific. The people on this island have been forced to build levees along their coastline to avoid rising sea levels, but unlike the low-lying communities of the United States and Europe, the people of Kiribati lack the capital to build the same complex dike, pump and levie systems of the industrialized world. As a result, their communities face routine flooding. The people of Kiribati are faced with limited options and leaving the island to seek a new life elsewhere might not be one of them.
According to the United Nations 1951 refugee convention, a refugee is only someone who has  "well-founded fear of being persecuted because of his or her race, religion, nationality, membership of a particular social group or political opinion."
Since this definition of a refugee doesn't include any mention of movement to escape natural disasters as a result of a changing climate, climate refugees have no legal protections internationally and are not considered true refugees by the United Nations and most countries around the world.