Let's Talk About Sex: Revived panel discusses love, healthy relationships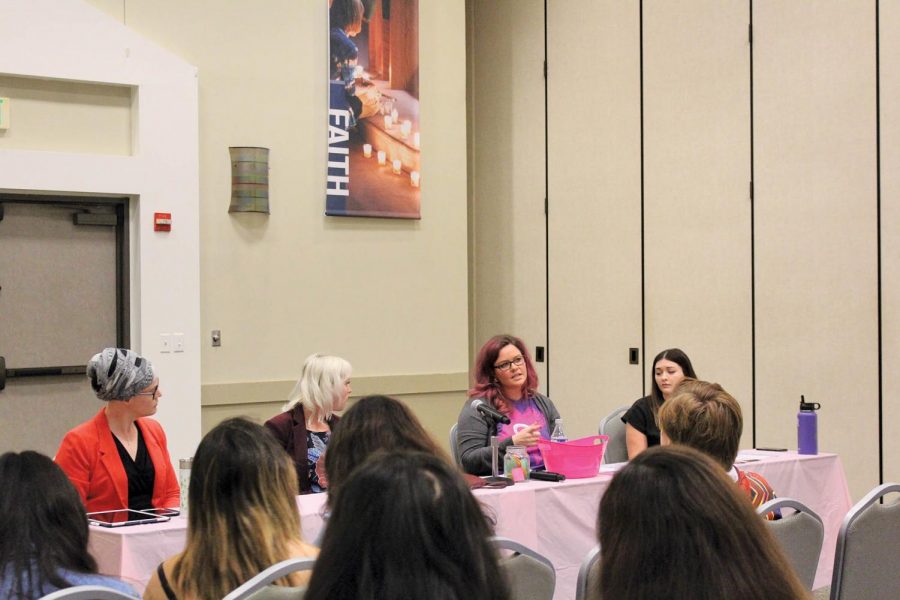 Christine Sanchez, Staff Writer
March 4, 2019
It isn't often that a conversation surrounding sex and love is advertised in school. But, for the first time in three years, it is at St. Edward's.
The Psychological Society put on a panel called Sex, Love, and Relationships. The panel facilitated an open discussion on everything about self-love, how to cultivate healthy relationships and much more.
Among the panelists was Dr. Emily C. Brown, a psychology professor here at St. Edward's, Kathryn Gonzales, Operations and Program Director of OutYouth, — a non-profit organization that provides resources like counseling, education, and safe spaces to LGBTQ youth in Austin — Tiana Lindberg, Director of Curriculum for Sexual Health Alliance and St. Edward's student and Executive Assistant of SHA, Maddie Sheffer.
Sheffer expressed that she was sad when these panels stopped occurring around three years ago, so she talked to people to get it started again.
Lindberg is devoted to carrying SHA's message of sex-positivity.
"The main, overarching goal [of SHA] is to educate from a sex-positive lens,"  Lindberg said. A lot of sexual education leads to misinformation, and can incite fear or shame in those wanting to learn more about sexual health.
Aayah "Nicky" Falahat is the President of the Psychological Society. She wanted to start the event again in order to open a dialogue on these topics.
"The panel is not so much a lecture as it is a safe place to get a little help," Falahat said. When it comes to relationships, she is a firm believer in communication and properly understanding how to have love with those around you.
"I love the idea of connection, and I love stressing the importance of connection in the community," Falahat said. "I think the forum allows people to understand the basis of humanity, which is to love and be compassionate and connect with others. I just really want to give people that awareness."
During the event, panelists answered anonymous questions, such as how to deal with toxic relationships, how to deal with the anxiety that comes with relationships, tips for being more sex-positive, advice on dating apps, communication, self-love and more.
Dr. Brown advised that when someone you know is in a toxic relationship, the best thing for you to do is to stay involved in your person's life, show them that you care and don't criticize them.
"You being there as a loving, caring supportive source is the most important part," Gonzales said.
When anxiety from a new relationships hits you, you shouldn't be alarmed. "Without vulnerability, we wouldn't have the connections we have," Brown said. "Communication is the best way to deal with anxious feelings," Lindenberg added.
When it comes to sex-positivity, Brown believes it's something that gets stronger with practice, and that people can take active steps to make themselves feel sexier.
"If you have an Instagram feed of Instagram baddies with perfect asses and that makes you feel bad, stop following them," Brown said.
Our brains are ever-changing, and the more we feel good about sex, the more positive we are about it.
When met with a question about whether or not masturbation is good for you, all four panelists let out a resounding "Yes!"
The panelists encourage people to practice self-love and buy a sex toy if they can, and advise using clean and non-porous toys, preferably made of silicon. They stand by never feeling ashamed about sex or self-love.