Bill would allow LGBTQ discrimination based on moral, religious beliefs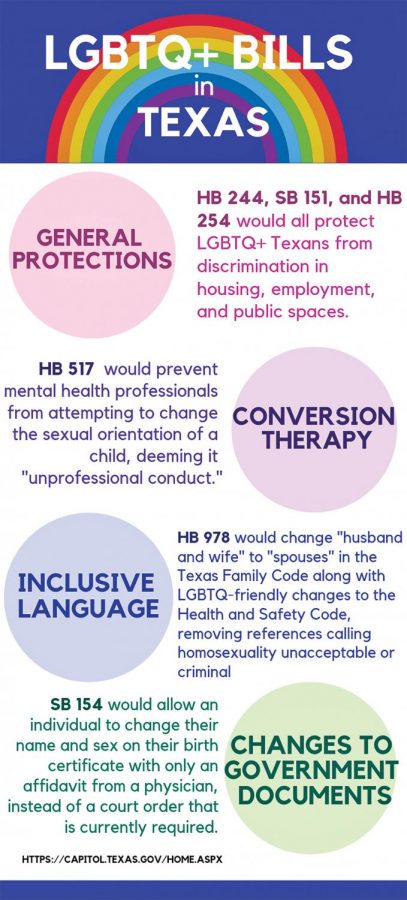 Megan Hess, Staff Writer
March 5, 2019
The 86th legislative session has seen many LGBTQ-related bills this session, including House Bill 1035 by Rep. Bill Zedler, R-Arlington, entitled the "Free to Believe Act." The act protects religious beliefs or moral convictions that marriage should be between one man and one woman, and the terms male, man, female, and woman all refer to someone's "immutable biological sex" established at the time of birth.
This bill would allow businesses to deny marriage-related services to same-sex couples including wedding photography, dresses and venue rentals. Also protected is the right to deny employment, housing, counseling or psychiatric help and other medical services. Under this bill, an employee could be fired because of their sexual orientation or gender identity, and doctors could refuse to provide hormone therapy or gender-reassignment surgery.
This is not the only religious refusal bill that has hit the legislature this session– Senate Bill 1107 by Sen. Lois Kolkhorst, R-Brenham, defends the right to refuse to perform same-sex marriage ceremonies based on a sincerely held religious belief, and SB 1009 by Sen. Brian Birdwell, R- Granbury, defends conscientious refusal of health care services to members of the LGBTQ community.
"This is a very dangerous bill. It is obvious that they're trying to restrict freedoms for LGBT people," said Alex Barron, St. Edward's Associate Professor, Director of First Year Experience and PRIDE sponsor. "I think it very clearly sends a message to everybody who is queer in the state of Texas that you shouldn't have access to public spaces like everyone else should, and you are a second class citizen."
However, Texas's first LGBTQ+ Caucus is fighting bills that they deem discriminatory towards the community. Chairwoman Mary González, D-El Paso, was the second LGBT member elected to the Texas Legislature. She alongside Jessica González, D-Dallas; Mary González, D-El Paso; Julie Johnson, D-Carrollton and Erin Zwiener, D-Driftwood, are all pushing for pro-LGBTQ legislation this session.
"I think it could make a really big difference," Barron said. She also said that in the 85th session, she witnessed "legislators who are incredibly ignorant and incredibly bigoted."
There are currently no federal or state protections barring discrimination against LGBTQ Texans. However, several bills have been introduced this session which aim to protect or support the LGBTQ community.