SEU theatre performs award-winning musical exploring taboo teen topics
On Thursday April 11, the stage was set. Students, parents and actors alike crammed into the Mary Moody Northen Theatre, ready for "Spring Awakening," the latest production put on by the school's department of performing arts.
The show, promoted as "an electrifying fusion of morality and rock and roll," did not disappoint. From the outset, creative lighting and impassioned music met intense action, adding to an ambience that had those in attendance at the small yet atmospheric theatre gripped.
Spring Awakening, originally a 1891 play by Frank Wedekind and adapted for stage by director Danny Herman, is a compelling story of sex, suicide and societal pressures in the minefield that is teenage development.
These themes of a musical set in 1890s Germany are still applicable to modern society. It is perhaps this that led to it being so well-received among the crowd. They were able to interact with the overall production of the complex plot unfolding before them.
Wendla Bergman, played by Natalia Garza, is a young girl trying to understand what it means to be a woman. She takes a shine to the young Melchior Gabor (Jackson Pant), an outspoken atheist with an incessant urge for rebellion. The central blossoming of this relationship is one facet of a deeply engaging plot dealing with the complexity of life facing a developing teenager.
"The musical deals with themes of budding teenage sexuality and understanding your body in a tumultuous time of adolescence," Joshua Bippert, who played the humorous Hanschen Rilow, said.
"[The musical] tackles the strain of the church, expectations of parents and the effect that they can have on adolescents," Bippert said. "Hanschen was really fun. He is a bit more aware and understanding of his body than the other characters. It was fun to play with what my character understood versus the other young characters in the show," he added.
The performance, featuring a large cast of current and former St. Edward's students alongside a collection of working actors, was a hit. The serious topics of sexuality and domestic violence were explored appropriately, with occasional adult language and comedic moments providing relief for the audience amid a dark plot.
"My favourite part was the song 'totally f***ed'," Thomas Vizard, a St. Edward's student in attendance, said. "There was a great amount of energy and the cast really came together as an ensemble during that song."
Vizard believes that the performance "accurately depicted how teenagers deal with a variety of issues," and that the student actors bridged the gap between the audience and stage.
There was a sense of coherence in the performance. Pride among those watching on was apparent throughout, as the cast brought the journey of eleven young people from adolescence to adulthood to life. Along with instances of humor, pressing issues were explored, indeed providing an awakening for all those in attendance.
Leave a Comment
About the Contributor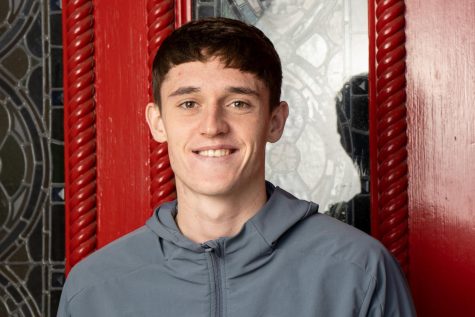 George Murray, Sports Editor
Hi! I am George Murray, one of the Sports Editors at Hilltop Views. I am an english literature major and journalism & digital media minor graduating...