Los Angeles-based podcast melds horror and comedy over drinks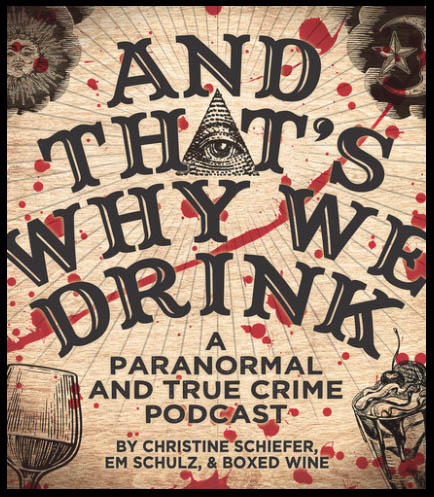 The sun setting earlier with each passing week, our Texas heat slowly meeting it's seasonal end and the start of September must all be the cues to commence spooky season. This means we break out the fall-themed decor and those Hallmark Halloween movies that we can't help but watch year after year. 
Created by comedy writer Christine Schiefer and Em Schulz, "And That's Why We Drink" is a paranormal and true crime podcast that embodies that thrilling sensation of a good horror story and the ideal comfort-level entertainment for a night in to study.
With boxed wine and milkshakes as special guests at most of their recording sessions, Schiefer and Schulz get candid about their own experiences involving inexplicable paranormal phenomena and ask their listeners to do the same through social media. Each episode is glaringly different from the next, as their range is anywhere from possessed mirrors in childhood homes to the retelling of San Jose, California's, haunted Toys-R-Us. 
Although it can be easy to get lost in the formidable length of most podcasts, these hours-long episodes can prove to go by in a breeze. The humorous twists Schiefer and Schulz give to their stories keeps listeners on their toes by amplifying chilling details in unexpected ways. 
This is most apparent in their recent episode titled "135: The Ghost of Lamps Past and A Pumpkin Stealing Cryptid" in which Schulz shares theories about the Bridgewater Triangle, a southeastern Massachusetts site that houses numerous cases of alleged paranormal activity. Somehow in the two hour and nine minute long segment that included murder, the hosts found a way to provide comedic relief. 
Arguably one of the most interesting aspects of this podcast is the unraveling of information between the hosts and their listeners. Schiefer and Schulz appear to each share their own accounts at the time the recording begins, so as the listeners are tuning into the main host relaying the terrifying story, the co-host's audible gasps and shocked silent pauses give their reactions a place in the narrative. It adds a level of ingenuity that is often appreciated in weekly content.
Schiefer and Schulz are openly connected to the world of social media and their listeners. Since their launch in March 2017, every first of the month the hosts feature stories straight from their audiences' direct Twitter messages and emails in a segment called "Listener Stories." However, they also connect through them outside of the recording studio when they're touring live in venues across the United States. 
In their most unreserved moments Schiefer and Schulz divulge on the personal details of their friendship and connections to the stories, making it that much easier to break the barrier between listener and friend. If that and the occasional inclusion of Gio or "Baby G," Schiefer's dog isn't convincing enough to tune into their podcast every Sunday then what is there left to say? "And That's Why We Drink" is available to stream on Apple Podcasts, Spotify, Google Play, Stitcher and even Youtube. In the words of the hosts, "The world's a scary place. And that's why we drink!"
Leave a Comment