Biggest fantasy football takeaways through the first few weeks of NFL action
Week one and two are on the books for the 2019 NFL season, and there are lots of updates to discuss. This week's deep-dive into the NFL explores fantasy football teams while reflecting on the opening week games of the season. For those new to fantasy, we will be using a standard points system, which means players don't earn points per reception. 
Biggest Winner 
Last year, Ravens quarterback Lamar Jackson was criticised during his rookie season, with some questioning of his passing ability. In week one, Jackson racked up 324 passing yards and five touchdowns, earning fantasy teams 33.6 points. In week two, he balanced his play with 272 passing yards, two touchdowns and 120 rushing yards, earning another 30 fantasy points. 
Jackson won't be playing the Miami Dolphins and Arizona Cardinals, arguably the two worst defenses in the league. However, next week's matchup at the Kansas City Chiefs should be a great test of Jackson against one of the league's better teams. If Jackson can keep this performance up,  we could see a high scoring game out of both him and Chiefs quarterback Patrick Mahomes.  
Biggest Loser
Sammy Watkins, Chiefs wide receiver, had an outstanding game in week one. He went for 198 receiving yards, three touchdowns and caught nine of his 11 targets,earning 37.8 fantasy points.
Week two, however, was a different story. Watkins only caught six of his 13 targets and earned 49 receiving yards, bringing in a mere 4.9 points. Watkins is still going to get targets though, as he received 30% of the Chiefs targets in week two. Outside of that, his production is going to be spotty.
QB Pickups
In week two, both Drew Brees and Ben Roethlisberger left their games early due to injuries. Brees will miss six to eight weeks and Roethlisberger will miss the rest of the season. These two quarterbacks are the backbones of many fantasy teams. Indianapolis Colts quarterback Jacoby Brissett and Steelers backup Mason Rudolph are sure pickups going into the waivers this week. 
Brissett has averaged 16.4 fantasy points in his first two regular-season games under center. In the first two games, he earned 190 passing yards with two touchdowns and 146 yards and three touchdowns respectively.
These performances were up against a high-powered Chargers offense and Titans offense coming off an upset in week one. Brissett is only on 12%  of fantasy teams and should be the first choice pick up if you have Brees or Roethlisberger. But expect him off the waiver wire after week three waivers are finished and pick him up now if you need to solidify your starter for their bye week. 
Rudolph had a terrific preseason campaign: his four appearances combined earned him 368 passing yards and four touchdowns. Entering  the game in the second half, he racked up 112 yards and two touchdowns and completed 63% of his 19 passes. Rudolph managed to earn 11.2 fantasy points even though he only played half of the game. 
Rudolph kept the Steelers competitive in the fourth quarter, but a major penalty was added on after a review for defensive passing interference took Seattle 45 yards across the field. 
If Roethlisberger misses any significant time, don't be surprised if Rudolph becomes  Pittsburgh's starter for the season. 
Continue to follow Brees and Roethlisberger this week to see if a pick up is necessary.
About the Contributor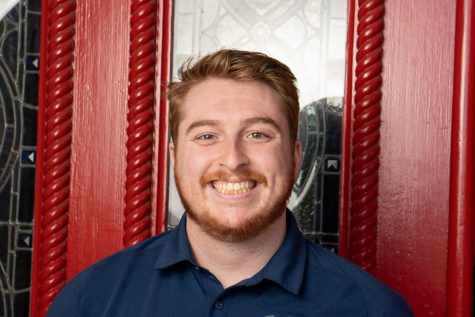 John Walker, Life and Arts Editor
MY name is John Walker, and I am one of the Life and Arts Section Editors. I'm a senior Communication major and journalism minor from Los Angeles, California....