Austinites gather to memorialize, remember local musician after sudden death
Patrick sat in front of the mural-turned-memorial for Austin-based musician Daniel Johnston. It was 1 a.m., and he had brought a speaker with which he played Johnston's early music. He expressed his sadness upon receiving the news of Johnston's death, explaining the impact the musician had on his life and others he met at the mural. Patrick spoke of a day earlier when a group in a van had parked next to the mural and played one of Johnston's unreleased albums from the van's speakers. The camaraderie the memorial has created is an indicator of Johnston's impact on the city of Austin. 
Johnston died of a heart attack at 58 on Sept. 11 as an Austin hero of music and sincerity. Johnston's sincerity defined his career. His career began with him handing out his cassette tapes at a McDonald's right here in Austin with the first of these being "Songs of Pain", recorded in 1980 in West Virginia. His early work consisted of lo-fi recordings with Johnston's timid vocals backed by his piano and chord organ. The songs are out of tune, out of time, and sometimes the vocals are barely audible, but the ethos behind the music is what attracted fans and critics alike. 
In 1983 Johnston released "Hi, How are You," an album memorialized on the side of a building on West Campus that has seen many restaurants pass through. The current restaurant in this building is Thai, How are You which has reportedly been playing Johnston's music in the days following his death. 
"Hi, How Are You" brought Johnston to new heights. Kurt Cobain, the frontman of the American grunge band Nirvana, was famously photographed wearing a shirt emblazoned with the album art, and he ranked Johnston's 1983 album "Yip Jump Music" in his top 50 albums of all time. Before his suicide, Cobain ranked "Yip Jump Music," another of Johnston's albums released in 1983, in his top fifty albums of all time. 
However, Johnston's unstable mental health prevented him from having a truly successful career in the music industry. Johnston struggled with bipolar disorder and recurrent psychotic episodes throughout his life.
In one incident, he threw the keys of a plane his father was flying out the plane window on the way back from performing a show at South by Southwest. The pair survived the incident in a crash landing. Johnston's struggles with mental illness while pursuing a career in music have been documented in the 2005 film "The Devil and Daniel Johnston."
The same year as the plane incident, Johnston released his first studio mastered album "1990." The album features some of his most well-known tracks such as "Some Things Last a Long Time" and "True Love Will Find You in the End." "Some Things Last a Long Time" has been covered by the likes of Built to Spill and Beach House, and the lyrics have been taped to the mural. 
The mural has been transformed into a memorial in the days following his death. It has served as a place for fans, like Patrick, to show their respect, swap stories and talk about the legacy of one of the most unique artists to emerge from the Austin music scene. The memorial bears candles, flowers, hand-written notes, song lyrics and Mountain Dew cans, a reference to a song Johnston wrote in hopes it would become a Mountain Dew commercial. Most visitors of the memorial have cited Johnston as a creative inspiration as he sought to create against great hardships, both financial and mental. 
The ethos for Johnston will live on in creatives who would do anything to show their soul to the world. It will also live on in all who actively search for happiness and battle cynicism in their daily lives. 
About the Contributor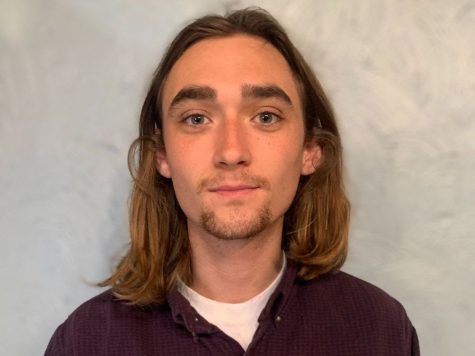 Ben Cardillo, Viewpoints Editor
Hi! I'm Ben Cardillo, I will be graduating this May with a major in Writing and Rhetoric and a minor in Photography. I grew up in Tampa, FL (go Bucs),...