Netflix unveils second half of binge-worthy dark comedy after much buzz
If you've been living under a rock for the past year, then you definitely missed "Disenchantment" on Netflix. Sept. 20 marked the first of three new installments for the Netflix original animated series to be released over the next three years. The show is "The Simpsons" creator Matt Groening's first original series since "Futurama," and it's everything you want in an original Groening show. 
"Disenchantment" follows the story of Princess Tiabeanie, — Bean, for short — played by Abbie Jacobson, as she navigates the kingdom of Dreamland secrets, deals with her mother's death and becomes an adult. She is accompanied by a demon named Luci, played by Eric André, and an elf named Elfo, played by Nat Faxton. 
For those who are fans of Groening's work, the show is very much like the later half of "Futurama." The episodes stand alone from each other but also connect to an overarching season/series storyline. Also, if you enjoyed the cast of "Futurama," then you will love the rest of the voice work in "Disenchantment." Most of the main cast returns for the new show which also helps give it that "Futurama" feeling. It also contains plenty of easter eggs for fans to pause and look for.
This new season focuses a lot more on developing some of the side characters' stories. The season is broken into three acts to accommodate these episodes. The first third is Bean returning to Dreamland, the middle develops some of the side characters and the final  moves the story into the next season. 
The newly released second half of the season spent time fleshing out Bean's family. Her step mother, Queen Oona, step brother, Prince Derek and father, King Zøg get episodes dedicated to learning more about them. This addressed the only problem with season one: the side characters had nothing to do but be a joke to producers. Giving Bean's family more to do in episodes and spending time with them gave them depth and added more to explore in the show. 
This show is the perfect binge watch for a lazy Saturday morning. The show won't make you laugh out loud, but its dumb comedy is sure to brighten up your day. You will be so enchanted (pun intended) by the characters and story that you will spend your  whole day watching the first season. The episodes are only 30 minutes long, making it the perfect one-day-binge.
If you didn't watch the first season,  don't worry. Netflix decided to release half of the first season last year, and what got released was the conclusion of season one, so you are at a perfect place to start watching. The season cliffhanger is amazing and leaves you with  many questions from both part one and part two. 
For a show that you might have blown off for not offering much, each season leaves you with more questions than answers and begging the television gods for more. This is a must- watch for everyone and should be moved to the top of your list if it isn't there to begin with. But then again, you can take a pause with whatever you're currently watching and start and finish in a day.
About the Contributor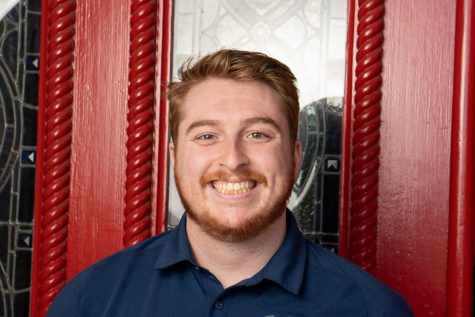 John Walker, Life and Arts Editor
MY name is John Walker, and I am one of the Life and Arts Section Editors. I'm a senior Communication major and journalism minor from Los Angeles, California....