Mary Moody Northen Theatre Performs Classic Farce, "A Flea in Her Ear"
A night filled with mischief, roaring laughter and heaps of double entendres is what play-goers have to look forward to from the Mary Moody Northen Theatre's performance of "A Flea in Her Ear." 
This risque play features the theatre's company of St. Edward's students along with some of Austin's acting professionals. It is set in Paris in the 1900s, and revolves around a bright-pink set of "The Frisky Puss" hotel, where there is drama galore, painfully funny rheumatism and possibly long-lost twins.
Director Robert Tolaro expresses his love for the play, and reveals that the theatre company "wanted to do a classic comedy as our first show of the season, so we chose this bedroom farce by Georges Feydeau." 
With any great play comes great challenges, as Tolero expressed that he has an affection for the Feydeau farces. 
"They're very challenging pieces of work because there's so much action, but a lot of fun for the actors because they get a chance to pull out all the stops and have a blast.," he says. 
All the actors and actresses certainly did "pull out all the stops," as they engaged in scenes of passion followed by scenes of lively onstage combat and action, all the while making the audience laugh.
Catherine Williams is seen in the role of the classy leading lady, Raymonde Chandebise, who is determined to catch her honestly faithful husband in the act of adultery. Williams described her favorite part of the play being the "absolute ridiculousness of it all." 
Williams also says, "This is the only show I've ever been in where I'm trying not to laugh on stage the entire time. The other actors will do different things every single night and everyone's facial expressions always surprise me." These expressions did not go unnoticed by audience members, as the theatre filled with laughter and positive reinforcement.
For those who have yet to see it, director Tolaro urges them to do so, saying "Audience members can look forward to a time when they're gonna spend a couple of hours in the theatre and do nothing but laugh at the foibles of human nature and the silliness that goes on when there's miscommunication." 
Getting to the heart of the play's message, Tolero explains, "It's really a play about communication and lack of that. It's also really about love." 
Miscommunication is the central theme of the play, as just one letter stirs up heaps of drama. This goes to show how simple forms of miscommunication have lead to disaster since the beginning of time. Feydeau just put his special, hilarious spin on it. 
"A Flea in Her Ear" is playing at the Mary Moody Northen Theatre through Oct. 6. Tickets and more information can be accessed on the theatre's website.
Leave a Comment
About the Contributor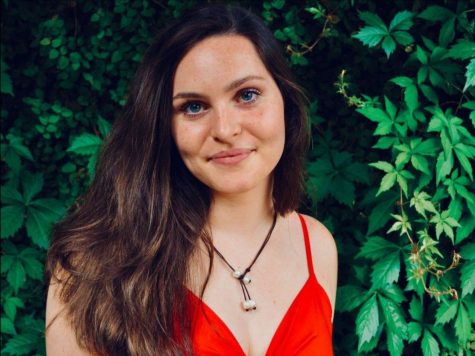 Gracie Watt, Photo Editor
Hey y'all! My name is Gracie Watt and I am a junior majoring in communication with a focus in journalism. I'm proud to be the Photo Editor for Hilltop...