Secretary Castro talks impeachment, immigration and 2020 election during one-on-one
Former  Secretary of Housing and Urban Development (HUD) and Democratic candidate for the 2020 presidential election Julián Castro spoke at the Texas Tribune Festival Saturday to discuss his position in the race for the Democratic nomination.
NBC correspondent Katy Tur interviewed Castro at the Paramount Theatre and immediately touched on topics such as impeaching president Donald Trump.
The House of Representatives officially launched an impeachment investigation last week after whistleblower reports alleged Trump tried to pressure Ukraine President Volodymyr Zelensky to investigate former Vice President Joe Biden and his son Hunter. The report brought concerns that Trump was "using the power of his office to solicit interference from a foreign country in the 2020 U.S. election."
"When you look at the summary of that vocal transcript, he's using his authority as President of the United States to pressure a foreign leader, dangling military aid over that foreign leader, and asking them for a favor," Castro said. "The favor is to do political dirty work against the political opponents that he may fear the most, at that time and that's clear abuse of power. "
Castro suggested that after the hearings into Trump's impeachment, the American people will have the opportunity to dig deeper into possible new evidence. He went so far as to state that people with different political stripes will begin to support impeachment.
"I think what you're going to see is what we saw in Watergate, the more evidence comes out, the more people are going to understand the gravity of the situation. They don't have to take FOX News' word for it. They can see it with their own eyes and their own ears," he said
One question explored during this conversation received large controversy from social media. Tur entered the realm of diversity in the current 2020 Presidential race by asking Castro how he would feel about the Democratic Party if the next nominee was Caucasian.
"What a ridiculous question," Diego Bernal, Texas State Representative for District 123 said in a tweet over the weekend. "What assumptions have to be made about him to assume that is an appropriate thing to ask? And would you dare ask anyone else (white, woman, etc.) a corollary question?" he added.
"I'm going to support the next nominee enthusiastically if I'm not the next nominee," Castro said. "I've always said that I believe that we should have greater diversity in our party, certainly in leadership but I also don't believe you can say just because someone is white that they shouldn't be in that position. So I'm going to support the nominee, and anyone of the 18 people that are left, would be tremendously better than Donald Trump."
As Former Vice President Joe Biden, Massachusetts U.S Sen. Elizabeth Warren, and Vermont U.S. Sen. Bernie Sanders, have pulled ahead in the polls, Castro continues to poll at around 1% of American voters, according to Politico.
Earlier in the week, Castro sent out a mass email warning supporters that his campaign will be over if he does not qualify for the November debate.
"I don't say this lightly: If I don't make the next debate stage, it will be the end of my campaign," Castro wrote in a fundraising email last Thursday.
Tur asked Castro if he would challenge Texas U.S. Sen. John Cornyn, who is up for reelection in 2020, should his campaign end. But Castro ruled that possibility out entirely.
"I am not going to do it and I believe I'm going to make the next round of the debates, too," he said.
Leave a Comment
About the Writer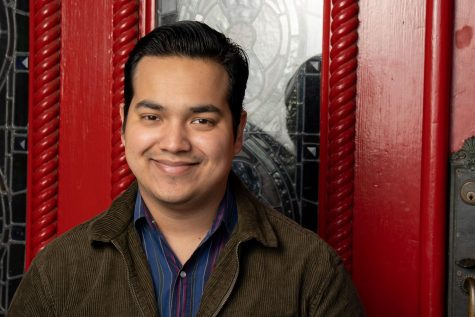 Matthew San Martin, Editor-in-Chief
I'm Matthew San Martin - A senior Communication major with a focus in Digital Media and Journalism and Editor-in-Chief of Hilltop Views. I served as News...