Statistics show Austin ranks twice as high as national average for police violence
Police brutality has historically been a nationwide issue. However, according to new data, the issue is more severe than expected close to home.
Measure Austin was founded in 2015 by Jameila "Meme" Styles. Between Jan. 2013 and Dec. 2018, Measure conducted its 'Mapping Police Violence' project, which aimed to hold police chiefs and mayors accountable for ending police violence in cities across the country.
Over this period, the project found that only one of the country's 100 largest city police departments did not kill anyone (Irvine, CA). According to the data, Austin ranks twice as high as the national average in police violence.
What exactly can this be attributed to?
"There's no justification for it. There's a deep culture of policing that needs to be reformed," Styles said. "You have to take a step back and wonder what Austin is doing wrong…we all have to take a reformist approach. That's where community policing comes in."
Having challenged the city's law enforcement to show her the numbers, research and practices they were using to inform day-to-day policing, Styles' proposition for community policing would involve collective action on the part of both Austin's citizens and police department.
"Community policing is the ability for a neighborhood to build relationships and mitigate crime where the law officer is not just an enforcer of the law but an active part of the process," Styles said.
Public health is at the issue's core. As a particularly multicultural city, Austin's high ranking could be a cause of police mismanagement of minority ethnic groups. The Statesman has also reported that APD has the highest per capita rate of police shootings during mental health calls. Often, the most high-profile of these cases feature people of color.
Here at St. Edward's, campus diversity is something that is embraced by all affiliated with the university, including campus safety officers.
"I know a lot of people on campus and I have not once heard anyone talk badly about the police department," senior Caleb Witcher said.  
But Witcher does notice a difference between the treatment of people of color in this city compared with his hometown in Atlanta, Georgia where he explained that police are more cordial and are exposed to black culture every day. "They work to make us safe, so it's normal for them," Witcher said.
While the numbers regarding police violence in the Texas capital may come as a surprise, things may be on the up. Relationships in Austin are improving between the community and the police force, as Measure aims to increase awareness and a fusion between the city's law and its inhabitants going forward. Further, regarding an overarching analysis of dealing with inevitable issues, Measure has grown to not only address community policing, but health, education and economic disparities.
With increased exposure to statistics, the community and police force is aware of the issue at hand, holding themselves accountable with serious improvement across the city and setting a realistic end goal.
Leave a Comment
About the Writer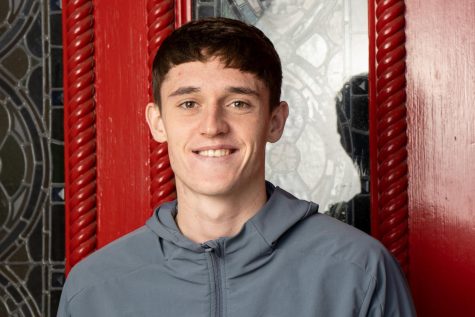 George Murray, Sports Editor
Hi! I am George Murray, one of the Sports Editors at Hilltop Views. I am an english literature major and journalism & digital media minor graduating...