APD to be investigated by third-party following misclassification of sexual assault cases
Following an audit of APD conducted by the Texas Department of Public Safety (DPS) which found that 30 of 95 sexual assault cases reported in January, November and December 2017 had been misclassified, Austin City Council unanimously passed a resolution on Jan. 31 to fund a third-party investigation. City Council successfully approved a contract not to exceed $1,000,000 with the Police Executive Research Forum (PERF) on Sept. 19.   
DPS found that APD had misclassified an alarming amount of sexual assault cases as "exceptionally cleared" meaning the offender could not be arrested or charged due to elements out of law enforcement's control. Austin Police Chief Brian Manley requested the DPS audit after ProPublica published an investigation in which former APD Sgt. Elizabeth Donegan said she was pressured to change the clearance code on two cases.

"We want to make sure we are doing things the right way and that we are giving the best possible service to the people who have survived some of the most horrific crimes," Manley told the Austin-American Statesman in January. 
The external investigation was initially scheduled to take 18 months but has been extended with the final report expected no later than February 2022. Council Member Alison Alter, who initially introduced the investigation, remains optimistic about the timeline. 
Alter says a large number of cases, 50% of sexual assault cases filed in the last seven years, will be thoroughly analyzed by holding interviews with victims and detectives of the sex crimes unit. However, PERF will remain vocal throughout the investigation and has update memos set to occur every six months and bi-monthly conference calls with the City Manager's office to ensure open communication. 
"This [investigation] is important because sexual assault is a serious crime and we weren't seeing justice for the victims," Alter said. She hopes the investigation will not only implement change within APD but also provide healing to survivors of sexual assault and change the culture surrounding the issue here in Austin. 
"We have a lot to learn about how we approach women and people of color and we can do that with data and analysis," Alter said. 
According to Alter, only 10% of sexual assault survivors report the crimes. The council member wants to restore confidence in the system and create an environment where survivors feel supported.
"I think we should work toward a culture of confidence in the system to protect survivors and assure them that justice can be achieved when pursued," UPD Police Chief Homer Huerta said of the results of the investigation.   
During the contract hearing for PERF on Sept. 19, Alter asked the investigation parties to address the community concern about a police entity — PERF — leading the investigation. The subcontractors, the Women's Law Project (WLP) and Wellesley Centers for Women (WCW), testified for the unbiased work PERF has done. 
"We've done case reviews, we've done policy reviews, we share an approach of critically reviewing everything we're doing with the objective of making things better," Terry Fromson, Managing Attorney for WLP, said about their partnership history with PERF, "so I don't view PERF as a police entity." 
WLP's partnership with PERF began in 2011 when they successfully changed the legal definition of rape to be inclusive to all genders and not just females. WLP and WCW will collaborate in every aspect of the investigation and will have strong responsibility in leading victim interviews.  
Alter also emphasized the importance of diverse interviewers to match the diverse pool of interviewees and prevent further trauma of reiterating their cases. 
Former president of the St. Edward's It's On Us chapter, Sophia Espinoza, hopes the investigation will start a conversation about consent and sex education and the possibility of an "overall shift toward prevention," which she says starts at a young age. 
At a local level, St. Edward's provides a variety of resources for the campus community.
"We have resources in place for students and employees to both file a complaint for an investigation, as well as receive confidential support on and off campus," Vice President for Student Affairs and Title IX Coordinator Lisa Kirkpatrick said. 
"If someone wants for the university to administratively investigate a complaint against a student, a report can be filed with the Dean of Students Office. And if someone wants for the university to administratively investigate a complaint against an employee or third party contractor, a report can be made with the Office of Human Resources," Kirkpatrick said. "Complaints can be made in person, in writing, or online through the university website."
Though the investigation will take over two years, Alter ensures the timeline will provide a thorough audit of how sexual assault cases are and should be handled in Austin. 
"We believe [survivors] and we care and we can do better," Alter said, "but it can't happen overnight."
About the Contributor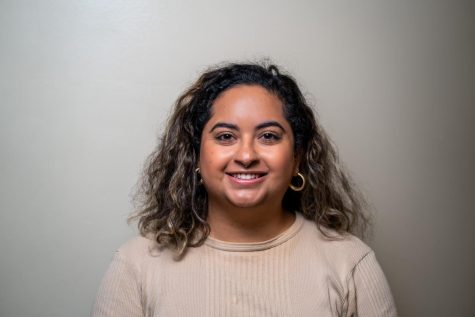 Myrka Moreno, Social Media Editor
I am Myrka Moreno - Digital Media Management, Journalism minor and Social Media Editor at Hilltop Views. This is my senior year at St. Edward's University....