SEU community discusses campus safety resources amid reports on TX State
A recent Texas Tribune article reported Texas State's campus police department is underfunded and understaffed. The lack of funds and employees led to malfunctioning emergency telephones, decreased video surveillance of parking garages, and overall underreported crime rates.
At St. Edward's University, a police force (University Police Department), a campus security team and a Campus Resilience office are maintained to ensure student safety.
The university police department also offers self defense classes and crime prevention to students, and they patrol the campus at all hours. They also keep an updated list of crimes committed on campus online alongside their crime advisories, which are emailed to students when there is a serious crime or repeat offender on campus. St. Edward's students can also download the Topper Safe app, which updates students on criminal activity on campus. 
Campus Resilience is a new office created to address emergencies such as natural disasters and active shooters. They act as a liaison to the Campus Community Emergency Response Team, an organization of volunteers and staff who prepare the campus for disasters, according to FEMA guidelines.
However, some students, like Faith Golz, voiced concerns about campus safety.
Golz was recently involved in an incident where multiple female St. Edward's students had their clothes stolen from the Community Building 1 laundry room at the on-campus apartments. The assailant is alleged to have broken in through an unlocked window to steal the girls' shorts and underwear. 
On Wednesday, Oct. 9, students received a crime advisory email from the university police department about the laundry room theft.
Campus police have opened an investigation into the incident, but Golz says she feels their work is inadequate.
"They sent out a crime advisory, but I feel like nothing will really happen," Golz explained. 
Golz said she felt the police put the blame on her and the other victims, and that the investigation was stalled due to a lack of surveillance cameras in the laundry room. 
"[UPD] sent out a message, and they were like 'Okay, we changed the laundry code, but don't give out the laundry code or don't let people in,' and it was kind of like, 'You should stay with your clothes while it happens,'' said Golz. "So, I feel like they're putting it on us like it was our fault we were sharing the laundry code when it turned out one of the windows was unlocked." 
Golz also expressed worries about a lack of lighting, cameras and emergency phones throughout campus. She said she often feels unsafe walking to soccer practice in the morning.
Junior Gershom Thompson had the same concerns about a lack of cameras as Golz. 
Thompson, a resident at the on-campus apartments, recently had his bike stolen and feels that increased video surveillance on campus may help to deter theft. He also does not believe there is enough police presence at the apartments.
"I feel like [UPD] could patrol the apartment areas more often," Thompson said.
Homer Huerta, the Chief of University Police, said there is an ongoing process to install and update security cameras throughout campus.
Leave a Comment
About the Contributor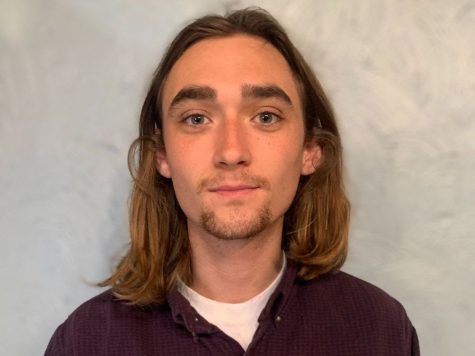 Ben Cardillo, Viewpoints Editor
Hi! I'm Ben Cardillo, I will be graduating this May with a major in Writing and Rhetoric and a minor in Photography. I grew up in Tampa, FL (go Bucs),...