Racism in European soccer: The sport's lingering social justice issue
On October 14, England's national soccer team traveled to Bulgaria for a European Championship qualifying match. Throughout the warm-ups and in the game's early stages, racist chants were heard by English players who alerted the Union of European Football Associations (UEFA) officials to it.
What they experienced was unlike anything they could have prepared for and seemed like a watershed moment in soccer's ongoing fight to rid the game of abhorrent scenes like those witnessed in Sofia, the Bulgarian capital.
In the lead up to the game, England manager Gareth Southgate openly discussed his team's plans to deal with racist abuse directed at Black, Asian and minority ethnic players on the team.
As the game intensified in the first half, so did foul racist abuse of England players Raheem Sterling, Marcus Rashford and Tyrone Mings, the latter making his debut for the national side. Monkey chants were audible, while Nazi salutes and hooded fans were visible in an already half-empty stadium (because of a sanction for previous instances of racism), as culprits held up signs displaying a "No Respect" message.
The players, recalling a similar instance in Montenegro in March, were focused on enacting UEFA's recommended three-step protocol for instances of discrimination.
Although the governing body's system has been in place since 2009, it has never been fully enforced. Last week's incident was one of the closest to the system's full enforcement happening, the latest of a long line of high-profile cases of racism in European soccer.
Various cases of racist abuse in the past 12 months have exposed a worsening issue as soccer has become disconnected from society. Racist abuse of players is simply unacceptable behavior—they are humans at work after all. Discrimination of any kind in day-to-day life would be condemned, so it is baffling that some find it acceptable within the confines of a sporting venue.
Despite the good work of organizations such as Kick It Out, a sickening undercurrent of racism still remains prevalent in the game. What must be done to halt it?
Harsher, more direct action would be a start. With nations such as Bulgaria, the team must suffer for fans to be deterred from repeatedly acting this way. Disqualifying teams from major tournaments or docking significant points would have the desired effect, rather than poultry fines or partial stadium closures. Additionally,  those with bigoted views on the multiculturalism of soccer could take education courses. This multiculturalism is exactly what makes soccer beautiful and a representation of wider society.
Because of recent events and the urgent need for change, the English Premier League stepped up its "No Room For Racism" campaign ahead of the weekend.
"There's room for rivalry. There's room for passion. There's room for drama. But there's
#NoRoomForRacism in the Premier League. Or anywhere else," the Premier League campaign's promo video stated defiantly.
This will hopefully send a firm message that both in England and on the continent, discrimination must be exterminated. It is 2019, the time for excuses is over and there is no room for racism anymore.
Leave a Comment
About the Contributor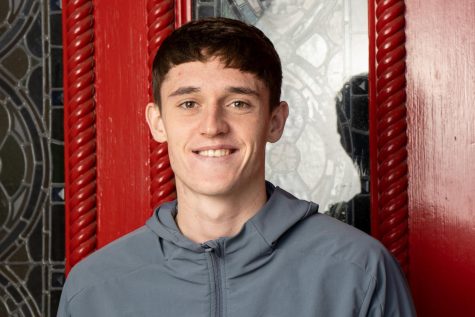 George Murray, Sports Editor
Hi! I am George Murray, one of the Sports Editors at Hilltop Views. I am an english literature major and journalism & digital media minor graduating...