Senior reflection: Myrka Moreno
December 4, 2019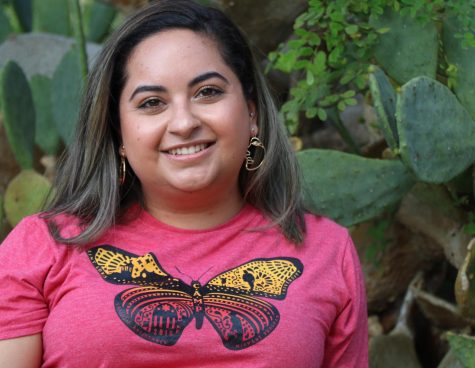 Journalism wasn't my first choice or my second. During my first year at St. Edward's I changed my major three times because I had no idea what career I wanted to pursue. As a first-generation student, I had no real guidance on what to do. 
On a whim, I decided to attend a Hilltop Views budget meeting and ended up taking a story. I struggled to write a 500-word opinion piece, but there was no turning back once I got the rush of seeing my byline in the paper. 
After writing and covering events on the HV social media for a semester, I declared journalism as a minor and joined the team as social media editor. In the past four years, I've been able to carve my own career path merging social media with journalism, something I thought impossible. 
Hilltop Views provided me with an opportunity to explore my passion and try on different hats as I explored the industry. I was able to build networks and intern with publications that have shaped my career.
I've jumped a lot of hurdles and still struggle with imposter syndrome, but I wouldn't be here, graduating and confident in my career path, without the support of everyone I've crossed paths with at Hilltop Views. 
Rosemond Crown, my first Editor-in-Chief, who taught me the ropes and to never back down when you find your passion. Thank you for being my first mentor. Your resilience and boldness were an inspiration when I was terrified to join a team of incredibly talented editors.
All the editors from Fall 2017, when I was news editor for a semester, thank you for the laughs as we tirelessly put together a paper every Monday night (sometimes Tuesday morning) and offered me countless rides and emotional support while I lived in a hotel. Some of my best memories were made in Andre Hall with you. 
To all the current editors who make me feel old but I love nonetheless: your passion and persistence inspires me and has helped me push through when I felt like I absolutely would never, ever find a job in the field I wanted. You are the kind of journalists we need and I cannot wait to see your career flourish. 
To Matt San Martin and Gianni Zorrilla, I am lucky to have worked with two talented and fearless journalists. Your leadership and guidance have made a group of coworkers feel like a family.  
Jena Heath and Curt Yowell, the two faculty supervisors I had the privilege of working with, always had their doors open and a word of guidance when I felt like I wasn't cut out for this industry. Professor Heath's interactive journalism class was the first in my minor when everything about this profession was still intimidating. Your support has helped me beyond the classroom and I will always be grateful to have sat in your classes and worked alongside you. 
Most of all, thank you to the College Assistance Migrant Program (CAMP) and Perla Delgado, Rosalinda Valdez and Gilbert Contreras for giving me the opportunity to pursue a college education in the first place. I've made a family at CAMP and you have helped open doors beyond agriculture work for not only me but countless students. I cannot thank you enough.
As a daughter of Mexican immigrants, raised by a single mother in a migrant farmworking family, pursuing a college degree, especially in a city like Austin, never seemed possible. St. Edward's has provided me with life-changing experiences. 
My time at this school has not always been the best or easiest, I lived in a hotel and was flooded out of my dorm after all, but I was always able to find solace and community in times of need and that has made my four and a half years here worthwhile.