'High School Musical: The Musical: The Series' bops to the top with classic tropes, nostalgia
Nostalgia is a powerful feeling. So much so that Disney based its entire marketing plan for its brand new streaming service Disney+ on the sentimental attachment adults have to their favorite childhood shows and movies. I'll be the first to admit that their ploy worked, and I have happily been rewatching my favorite Disney shows for the past two weeks. 
To keep up with their profit-drivers, Disney+ announced an abundance of reboots and sequel-type shows and movies to some of their cult classics. Among this list is "High School Musical: The Musical: The Series" or "HSM:TM:TS" for (not-so) short. 
"HSM:TM:TS" is a mockumentary-style show about the students who attend East High School in Salt Lake City, the high school where the Disney Channel original movie "High School Musical" was filmed. When drama teacher Miss Jenn (Kate Reinders), a dance extra in the original movie, learns that the school has never performed the musical based on the film, she returns to direct the production. 
The show follows the production of the musical and the off-stage drama between lead characters Nini (Olivia Rodrigo) and Ricky (Joshua Bassett) as Ricky tries to win Nini back after regrettably breaking up with her after she wrote a song to say she loved him. 
After the first episode, I found myself surprised at how much I enjoyed it. The show is nothing like "High School Musical." There aren't any randomly-break-into-song moments that make the audience cringe and the few lip-syncing scenes are barely noticeable. 
It brings just enough nostalgia with new renditions of songs from the movie and introduces original music just as catchy and heartfelt as the original. 
I expected the show to have amateur tropes and storylines given that the main plot revolves around the love triangle. It's for a younger audience, after all, but it presents deeper subplots that I found delightfully unexpected. While Ricky is dealing with the fallout of breaking up with his girlfriend, he also finds out his parents have separated and are filing for divorce. 
It's clear this show was made with the audience of the original movie series in mind. "High School Musical" influenced an entire generation beyond theater kids. It's obvious the creators know that the children that adored the original movie are now adults are more likely to be invested in a show about high school drama if it explores past the stereotypical tropes. 
Instead of releasing the entire series at once like its top competitor Netflix, Disney+ is releasing one episode per week like traditional television. In the first four episodes, "HSM:TM:TS" has kept me wanting to know what will happen next.
The cast is full of talented young actors like Rodrigo and Bassett who are 16 and 18, respectively. The dialogue is well written, full of snappy remarks and quick-witted comebacks that don't seem forced our out-of-touch in order to appeal to a young audience.
You don't have to be a fan of "High School Musical" to enjoy "HSM:TM:TS" as long as you like fresh, new takes on high school dramedies.
About the Writer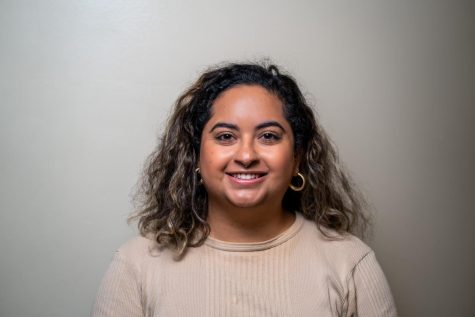 Myrka Moreno, Social Media Editor
I am Myrka Moreno - Digital Media Management, Journalism minor and Social Media Editor at Hilltop Views. This is my senior year at St. Edward's University....