'You' season 2 dives further into ominous pysche of main character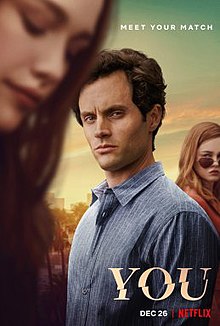 The first season of Netflix series "You" showed us just how diabolical a person can be. Of course, the season ended with main character Joe Goldberg (Penn Badgley) killing his girlfriend, the aspiring writer Guinevere Beck (Elizabeth Dean Lail). The second season, released on Dec. 26, came back with the same obsession and angst as the first, but dialed up a notch.
With Badgley, formerly of the teen drama "Gossip Girl," Victoria Pedretti, Ambyr Childers and Jenna Ortega, the second season of "You" continues to show viewers the dark side of love.
The show starts with a bit of a breather from its usual claustrophobia-inducing ambiance of the basement of horrors in Mooney's. Joe also changes his name to Will Bettelheim.
Much to Joe's, or Will's dismay, the tables seem to turn throughout the entire season, beginning with a setting change from busy Manhattan to green juice land Los Angeles. While he was more sure of himself in NYC, L.A. is a foreign land where Joe can't seem to stop running from his past. And he does run — all the way to the place he claims to hate the most.
By the first episode, another pretty twenty-something has already caught Joe's eye.
Upon getting to L.A., Joe gets a job at the show's version of a Whole Foods, working in the book section of the adjoining cafe. This is where he sets his sights on a new prospect by the ironic name of Love Quinn (Pedretti)
Throughout the season, Joe is at odds with himself and those around him. Though he wants to go back to his old murdering, stalking ways, he's more apprehensive this time around.
Constantly urged to help those around him, including his landlady's younger sister and Love, Joe also faces ex-girlfriend Candace, who briefly (and ominously) appeared in the first season.
Joe is haunted by the demons of his past, and scrambles to bury them deep down before his new circle of friends in L.A. can figure them out.
The impact of the series has been a topic of concern online and on YouTube, with video commentary exploring the depths of sociopaths and the psychology of Joe and other characters. On the other hand, the conversations online dive into why, despite Joe being a killer and sociopath, people still can't get enough of the show and even root for him. 
Some of these answers cite white male privilege and the fact that Joe is a traditionally handsome white male who, from looks alone, does not spark any suspicion of the crimes he's committed.
Critics also point out Joe's charm and ability to be "the perfect boyfriend," although viewers know this "perfect boyfriend" identity is only achieved because Joe stalks his girlfriends to the point of stealing their phones to learn things they have not yet shared with him.
While many people still debating what kind of killer Joe is and why some still have sympathy for him despite his actions, it's clear that "You's" viewership will continue to grow, especially since teasers for season three are already public.