Popular podcast explores unusual experiences of ordinary people
As I reflect on the changes that come with moving to a big city like Austin, the amount of strangers we commute with or walk past is both interesting and overwhelming. You can sit on a CapMetro city bus filled with different kinds of people or walk past countless faces on South Congress and never know what kind of backstories these people have.
But what if you could talk with these people and ask them anything that comes to mind? That is the concept that the podcast "Other People's Lives" (OPL) embodies in their monthly episodes. 
Since 2017, podcast hosts Joe Santagato and Greg Dybec have been finding strangers online with interesting experiences, beliefs or passions and calling them up for phone interviews. The two hosts ensure that the subjects feel comfortable, never revealing their names as they ask questions the average person may have. 
Each episode begins with the hosts prefacing the anonymous subject and letting listeners know a bit about them before the call. They then call their interviewee and have an open discussion for about 45 minutes. Interview subjects are typically open to conversation and answer just about any open-ended question the hosts throw their way. 
Ranging from believers of bizarre concepts, like flat-earthers and conspiracy theorists, to people who have survived traumatic experiences, like  9/11, first responders and mass shooting survivors, OPL has covered pretty much any type of person you can think of.
But that's not all. The hosts also interview people with unusual passions and professions, like real-life ghost hunters and witches, as well as people with strange addictions, such as individuals collecting hundreds of inflatable objects or stuffed animals. 
When a new episode is released, you can't fight the urge to press play. Most episodes will keep you on your toes and have you eager to listen to a perspective you may have never considered before. 
How many times have you communicated with someone who has a fetish for acting like a puppy with their significant other, or someone who is dating a prison inmate they've never met before? It's these types of voices that make you more aware of the lives that others live. 
The open-mindedness and acceptance that Santagato and Dybec have when it comes to communicating is special as it reminds us that no matter our differences, we are all human.
The show is available on both Apple Podcasts and Spotify.
Leave a Comment
About the Contributor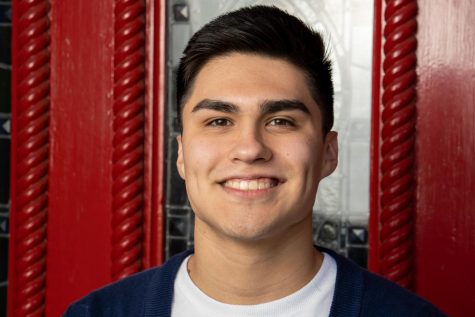 Adrian Gonzalez, Sports Editor
Hey! My name is Adrian and I am the sports editor for Hilltop Views. I am a senior Writing & Rhetoric major with a concentration in Journalism &...