The Vortex debuts play grappling with issues of gun violence, sexual assault
The play "good friday" written by Kristiana Rae Colon, had its Texas debut on March 28 at The Vortex.
Upon stepping into the tiny theater, you're instantly dropped into the world Rae Colon and director Simone Alexander created. Before the play even begins, you're welcomed into such an intimate space with a few of the all-female cast's belongings sitting on an array of chairs in an empty college classroom. It's not enough to tell a full story, but enough to get the audience to start thinking about who these women are and what they care about.
The set was perfectly put together and made use of every single item — simple and practical. But what sets "good friday" apart from any other show I've seen is the alluring dialogue and the quick and surprising plot twists placed throughout the story. 
At the crossroads between gun violence and sexual assault, "good friday" raises certain questions. How far do women have to go to be believed? Do they have to resort to the violent tactics that men are directly linked to? When will women stop being belittled and ridiculed? When will women ever get a fighting chance?
The audience is taken through an unexpected school shooting along with the women in the play.. Everyone in the room was terrified and it was strikingly obvious. 
"Mariame Kaba says abolition is a practice of care; the antidote to violence is care. 'good friday' is a trip to a dystopia harrowingly adjacent to our present reality, a dystopia carved out by a paucity of care. […] 'good friday' poses some of the darkest possibilities for seeking justice outside of our available systems in order to spark imagination of alternative systems," added Rae Colon.
While "good friday" might be disturbing and triggering to many, the play's foundation is rooted in truth. It's intentional with each piece of dialogue, each movement, each alarming shot. The play calls attention to radical change and challenges our perception of the current system. 
We get to experience the perspectives of several women coming from different backgrounds and belief systems on hot topics. Different ideas of femininity and empowerment are sprinkled all across the stage, waiting to be discovered. 
"good friday" tackles the big contemporary issues of today and doesn't shy away one bit. There were many questions answered, many questions left unanswered and even new questions left for the audience to ponder on as they exited the theater.
As Alexander says, "'good friday" is a play intended to be emotionally disruptive and unsettling. […] I hope our audience leaves this experience thinking more intentionally about how they can move through their own communities to make positive change."
The play will run through March 14 so you still have a chance to catch this whirlwind of a show.
Leave a Comment
About the Contributor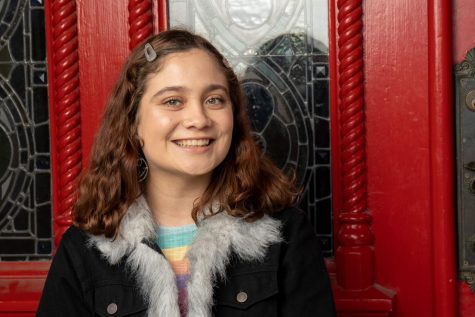 Sammy Jo Cienfuegos, Viewpoints Editor


Hey ya'll! My name is Sammy Jo Cienfuegos and I'm one of the two Viewpoints editors. I'm a senior Writing and Rhetoric major, with an emphasis in Creative...