Mary Moody Northen Theatre's first digital production explores new side of theatre
It's Friday night and the curtain is about to open and start the show – except there is no curtain. All the actors are at home and so am I – in my bed under blankets. My favorite yellow bowl sits on my lap filled with popcorn. But no curtain doesn't mean no show. The show goes on through a Zoom meeting.
The Mary Moody Northen Theatre's reading of Luis Alfaro's "Electricidad," directed by St. Edward's University alumni Johnny Joe Trillayes took place on Sept. 25. The performance is part of the theatre's virtual play reading series, "Out of the Box," and it's just as fantastic as seeing it in person.
"Electricidad" is a contemporary re-telling of Sophocles' Elektra, set in Los Angeles. It's an unforgiving story of revenge that follows the titular character, read by senior Bianca Ibarra. She is searching for revenge for her father's death, the former "rey del barrio." She is a self-proclaimed "Chola," a young woman part of a Mexican-American subculture associated with street gangs. She's crazy and passionate and wants her "barrio" back.
The stage directions, read by Thomas Quintanilla, helped set the scene for the audience. 
"Tiempo? Right now, baby," Quintanilla said, as the audience heard sounds of cars in a bustling city in the background.
The story began with a conversation between "tres vecinas," La Connie (John Mascorro), La Cuca (Becca Jimenez) and La Carmen (Mia Ramirez). The brilliantly funny and genuine acting in this scene helped set up the plot of the story as they gossip, or "chismean," about Electricidad.  
The energy between the actors is electric. Nino (Tomas Alvarez) and Orestes (Nicolai Diaz) convince the audience that they're in the same room. Their performance is comedic and genuine as the two characters give us further insight on the "Cholo" subculture. A conversation between two estranged sisters, Electricidad and Ifigenia (Gabriella Coronado), came alive through the screen thanks to the actress' strength. The actors proved that their ability to tell a story won't be hindered by a virtual setting.
"This process really opened my eyes that theater doesn't have to be on a stage," Ibarra said. "We've successfully done theater through Zoom."
The actors performed in front of a backdrop made up of tied rope that symbolized the entanglement between characters. Each actor was in costume (as far as I could see from their shoulders up) and wore makeup many had to put on themselves. Each student's full dedication to the show helped the audience forget that we can only see them in small squares instead of a stage. It's easy to become fully invested in the story. 
"I found if I really focused on what I was doing and shut out the world around me, even though I'm just in my room, it's been a lot easier to connect with someone through the screen," Ibarra said.
Most importantly, the play was free to watch after reserving a space online. 
"This is a more accessible form of theater," Lucia McMahon, who portrays Clemencia, said. "I have family that have never ever been able to see me perform before that have been able to tune into this play."
Leave a Comment
About the Contributor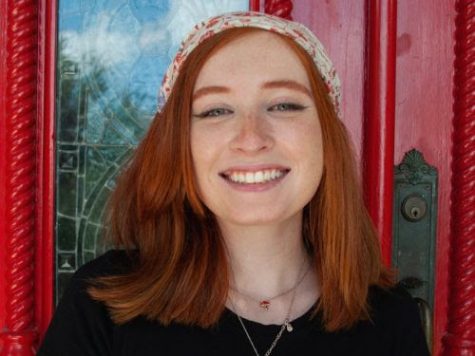 Elle Bent, Editor-in-Chief
Hi y'all! My name is Elle. I am majoring in Communication with double minors in Spanish and Journalism. I have wanted to be a writer ever since I was a...