Academy of Science sells campus-grown succulents to student body
St. Edward's University's Academy of Science is an organization that promotes science through events, tutoring services, mentorship services and volunteer service. The Academy of Science offers succulents for sale twice a semester to the St. Edward's community. On Thursday, Oct. 15, they held their first plant sale of the year on Ragsdale Lawn. The sale was scheduled from 10 a.m to 1 p.m. 
The Academy of Science had a table full of succulents and prices starting at $2. They accepted Topper Tender and cash as payment. The succulents are grown in the greenhouse in the North John Brooks Williams Natural Science Center by the club members. 
Some of the succulents were planted in recycled aluminum cans, allowing for the cans to be reused instead of possibly ending up in landfills. Succulents are great plants for beginners because they are suitable for indoor environments and require little attention. Their leaves retain water, so it's okay if they go a little neglected. Succulents are also great because there are over 100 different types of succulent plants to pick from.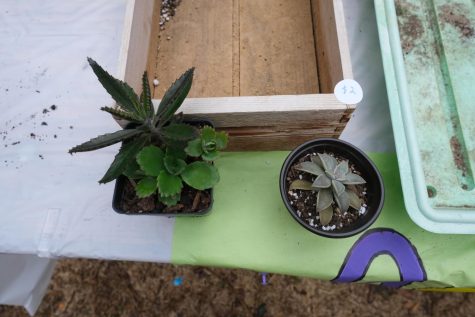 Healthline journalist Shawna Davis explains that plants also help people feel more relaxed and calm which can decrease anxiety. With mid-terms and projects due around this time of year, students on the Hilltop can really benefit from something as simple as a new plant to take care of. 
Academy of Science president Luke Tobias explained that the funds raised from their plant sales go back into the club to purchase and grow more plants for the next sale. He estimated that the next plant sale would be sometime around finals and that they aim to sell succulents twice a semester. 
Many students who left classes at 12:15 p.m. were disappointed to see that the organization had already sold out of plants and were packing up their table, about an hour before the event was scheduled to end. Rest assured, there will be another plant sale come finals. If you are interested in buying a plant, be sure to show up early so you can have a good variety of options.
Leave a Comment