Student-run dance group allows students to express their creativity through movement
Blue Rhythmic Dance, a student-run creative movements dance group, hosted one of their many open classes Feb. 16 in the Recreation and Athletic Center dance studio.   
During the dance session, the group tune the studio lights to blue, their main color, exuding ambiance and relaxed vibes. BRD's initiatives promote improvisational dance that encourages students to express themselves creatively through movement. The class is taught by Sarah Calvin, the director of Blue Rhythmic dance, or a visiting guest artist. 
Sarah Calvin, a psychology and art major, is the founder of Blue Rhythmic dance. She founded the organization to bring people together from different backgrounds and experiences through dance. The class starts with stretching and then moves to improvisation dance movements, and students can participate in movement games. 
"One of my favorite games is when we are in an iceberg; we run around the room to create a movement on an ice capsule," Calvin said.     
Another element of the class is called "negative space", where students try to locate the negative space in their bodies using movements. After the games, students learn dance movements with the instructor.
"Our ultimate goal is to create a vibrant dance community here at St. Ed's," Calvin said."Austin has an amazing improv dance community like Dance Action in UT Austin and First Street Studio. We are trying to bring the vibrant culture to St. Ed's."
Ashley Stone, a graduate student, wanted to join because she's always loved being part of the dance community. She wanted to continue practicing movement while studying all day in school. 
"Coming here for an hour a week has added many benefits to my day-to-day life because it gives me a chance to have a break to focus on myself, body and movement," Stone said. 
Stone believes it's a beautiful opportunity for other students to come out and have fun regardless of their skill level and considers it a new way for students to build a community and get the opportunity to express themselves through movements.
"If you're feeling a little nervous about coming to a class, just remember we all started somewhere," Stone said. "We are a welcoming community with no judgment, and all students are welcome."
Students can find more information about Blue Rhythmic Dance on Instagram @bluerhythmicdance and CollegiateLink.
Leave a Comment
About the Contributor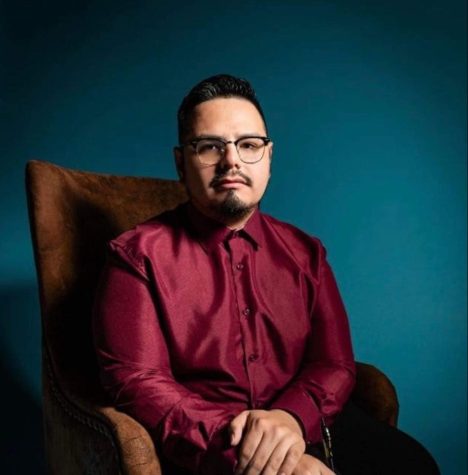 Rogelio Adame Govea, Staff Writer
My name is Rogelio Adame Govea and I am a Photography major. Fun fact about me is I enjoy getting to know people and learning from others. Creating stories...