Annual Bluebonnet Festival brings spring to the Hill Country with parade, other festivites
For many St. Edward's students, the second week of April may seem like just a normal, bland week. You go to class, see some friends and maybe even stop by Jo's to get a coffee. But in Burnet, Texas, things are far more interesting.
Burnet hosts their annual Bluebonnet Festival every April. Just an hour drive away from Austin, the festival has drawn people from all over Texas for some small-town fun for the past 40 years. There is an arsenal of activities in the town square, which is used as a temporary and easily walkable festival ground. 
"I really enjoy the small-town atmosphere," first-time festival attendee Connor Helmke said. "My favorite part though was definitely all of the shops and other pop-ups that had unique, locally made products, and seeing all of my friends having a good time was a highlight as well."
The festival began with a marathon through the blooming hills. Starting bright and early, runners enrolled in the 5k and 10k began their journey around the Hill Country. Once the runners were off, the party really started. Families with young children and dog owners showed up in hoards to take a look at the different things the arts and crafts vendors had to offer.
The arts and craft vendors were selling all kinds of goods, like pretty potted succulents, little crochet foxes, custom silver jewelry and wildflower seed bombs. There were also tents dedicated to community outreach: The Burnet County Democrats had a tent registering people to vote as well as giving away free wildflower seed packets to sprinkle in their yard. 
"I bought a tiny crocheted keychain of a donkey from this sweet woman who makes them by hand," festivalgoer Amelia Valencia said. "I'm very happy with my purchase, it's very cute and it feels good to support small local businesses like Little Cherry Toys. 
Around noon, the Grand Parade got rolling. A roar of trumpets and drums could be heard from the First Cavalry Band, who led the parade. Following them was a motorcade of city VIPs, like the mayor, the sheriff and prominent business owners in the community. I found myself stunned by how many different cheer teams, pageant queens and sports teams were in the parade. 
Though the best bit of the parade was about halfway through, when the pet parade began.
In the pet parade, owners could accompany their costumed pets through the square. One dog was dressed as a lion in a circus; a cat was accompanied by its Dallas Cowboys uber-fan owner; and a sheep was rolled along in a wagon by its Little Bo-Peep. 
After the hour-long parade, people returned to the vendor tents, and live music started at the main stage. Country artists Ben Watson and The Hired Guns began to play twangy, fiddle-filled tunes for festival goers to enjoy. 
The Bluebonnet Festival is great for a family-friendly weekend. An entire carnival-scape is complete with face painting, games and rides. Although you do have to pay for carnival tickets, they are not too expensive. I got a wonderful butterfly face painting for only $10. 
You might be wondering what any of this has to do with bluebonnets. Surprisingly, Burnet is known as the bluebonnet capital of Texas. At the festival, a small side room in the Burnet Public Library allows visitors to learn about the different species of plants and birds native to Texas at the Highland Lakes Birding and Wildflower Show. Master naturalists and native plant personnel from the Wildflower Society also answered any questions one could have about Texas flora. Jars of native plants that were picked that morning were available to inspect and read about. Here, you could snag yet another packet of wildflower seeds along with a map of the most flower-covered roadsides, perfect for picture taking. 
 At 3:30 p.m., the gunfighter shoot-out started with a gun safety demonstration and a speech about firearm safety. In this Wild West style shoot out, you could get your fill of classic heroes and villains seen in movies, like a robber, a sheriff and a damsel in distress. 
After a long day of fun, festival attendees took breaks and grabbed a snack and a drink at the food court or at the Bluebonnet Biergarten. Like at any carnival, the food court was ready to feed hungry mouths with a myriad of choices, like classic funnel cakes, barbeque and hotdogs. The Biergarten had beer, of course, and homemade sangria for non-hops lovers.
To close out the night, there was more live music, though you did have to pay a $20 admission fee to see the larger, headlining acts. People were welcome to bring coolers for a $5 fee and lawn chairs to relax on the grass, listening to music as the sun set over the bluebonnet-sprinkled hills. 
The Bluebonnet Festival is definitely worth it for some cheap entertainment. Next April, rip a page from my book and show your friends all the small-town charms Burnet has to offer. 
Leave a Comment
About the Contributor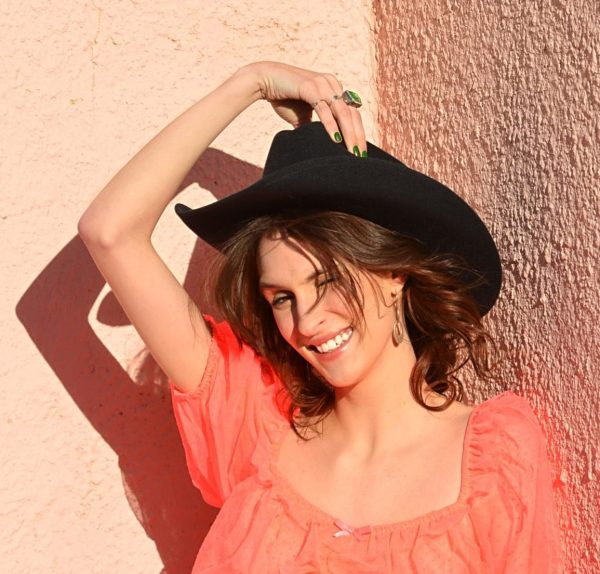 Emma Sutton, Staff Writer
Emma Sutton is a junior a majoring in writing and rhetoric with a concentration in journalism and digital media. It is her second semester writing for...