Commentary: Black students demand more action from university administration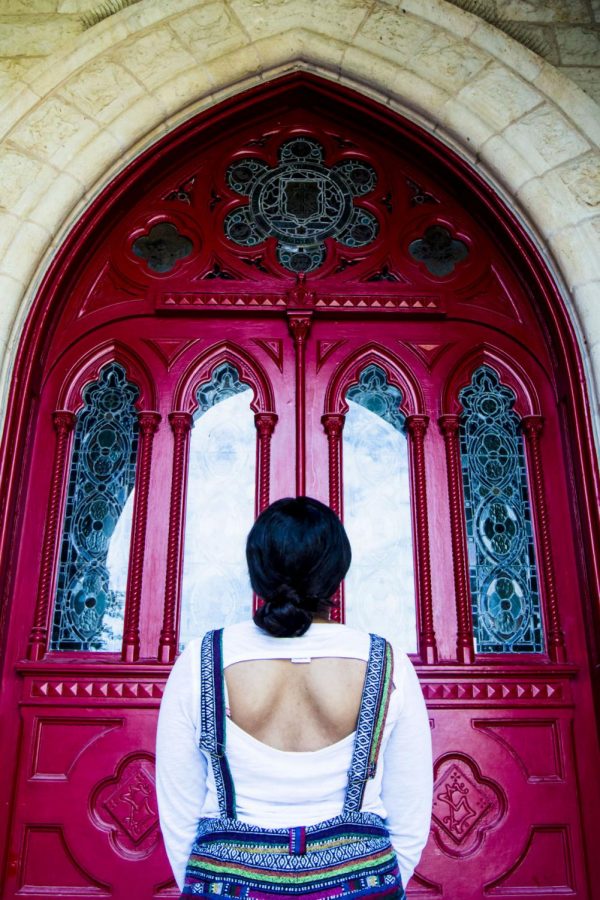 Neta Bomani
October 31, 2016
Kathryn Cornish is like many other college students. She works hard, strives to balance good grades, involvement in several campus organizations and a social life — all while staying healthy and positive. She's faced with a problem, however, that many black students share: the anxiety rooted in the black experience.
In a national climate of racial tension, the junior finance major questions St. Edward's University's commitment to supporting the mental health of its black students. She feels there's a lack of awareness of the black perspective, that the university is not doing enough for black students. Specifically, she wishes the university had sent out some sort of announcement acknowledging the painful conversation around police shootings of black or African American people.
"I wonder why no one in my university has said anything to any of its black students," Cornish said. "St. Edward's prides itself on its diversity and inclusion … and not a single peep from anyone."
On Sept. 16, Tulsa, Okla. police officer Betty Shelby shot and killed Terence Crutcher, a black man. Shelby is charged with first-degree manslaughter. The incident did not have a St. Edward's connection, but Cornish, like several other black students on campus, say it reverberated for them. They went to class thinking about it. It felt personal.
Jessica Thompson, the Black Student Alliance vice-president, rallied friends and fellow BSA members, Genevia Kanu, BSA president and Deja Morgan, BSA secretary to the office of their advisor in Student Life, to process feelings of anxiety and cry.
"When the Terence Crutcher incident happened, I was fine, but then I got to class and realized nobody cared… No one was thinking about this or they didn't know about it," Thompson said.
Generally, after tragic events, such as the balcony collapse in Angers, France or the death of University of Texas at Austin student Haruka Weiser, who was murdered near the UT Alumni Center in April, the Dean of Students emails students with resources like Campus Ministry or the Health and Counseling Center.
However, when it comes to issues of race, the university tends to not speak up. I, too, am a black student who wishes the university would enter a conversation in which I have been thrust into my entire life.
Dean of Students Steven Pinkenburg says that the university's decision on what incidents to address depends on proximity. Under the university's communication plan, students would receive announcements about a severe weather storm or active shooter.
That poses the question: should the university weigh in on issues that go beyond concerns for physical security and consider the emotional well-being of students?
Along with my Hilltop Views editing colleague, Jacob Rogers, I interviewed Vice President for Student Affairs Lisa Kirkpatrick, Dean of Students Steven Pinkenburg, Health and Counseling Center Director Calvin Kelly, Student Life Director Tom Sullivan and Director of Communications Mischelle Diaz. They all said that the university is working on initiatives to address diversity. Diaz said that with the overwhelming amount of information and news relevant to race, it's challenging for the university administration to choose the right time to make a statement.
Are these decisions influenced, consciously or unconsciously, by the fact that of the 25 vice presidents and associate vice presidents at SEU, none are black? (Eighteen are white, four Hispanic, two Indian American or Alaskan Native, and one is Asian, according to Human Resources). This means that the lens through which most of the university's administrators see race and its implications is a white lens. White perspectives, regardless of how sympathetic, aren't always in tune with complex and nuanced issues of race and diversity.
It's no surprise that issues involving St. Edward's students are viewed through a white lens or the perspective through which white people see and experience the world. It keeps them from seeing the world in a different reality, thus, affording them comfort in their position of privilege.
The same privilege that offers advantages to white people, disadvantages some students that feel like they're not being heard because pertinent events that speak to their experience aren't being discussed on a level that increases awareness.
Students also feel as if the onus to air grievances and produce solutions disproportionately falls on student organizations.
"It's kind of true for all of us that if students are really distressed that we want them to come to us, but … Outreach is something different, isn't it," Campus Ministry Director Peter Walsh asked. "I need to think about how we're doing outreach as Campus Ministry or even as a university … We tend to rely on student initiative … and I think that's something that we need to think about."
And while the university maintains an open door policy to organizations, the pressure is on groups like BSA to raise issues.
"It can't just be be a 'okay BSA's trying to pave the way,'" Morgan said. "We need the university to step in … so that we can truly, as a university, come together and pave the way for diversity."
So what's holding us back if the research shows that racial diversity fosters a positive learning environment?
"Students learn best when they're in a diverse community," said Vice President for Student Affairs Lisa Kirkpatrick. "That's what the literature says."
U.S. educational institutions serve students and the community better when learning environments take racial, ethnic and socioeconomic diversity and inclusion into account, according to two studies conducted by The Ohio State University.
"It's designed, depending on the teacher, to come up in your [Cultural Foundations] classes," BSA President Genevia Kanu said. "But other than that, I've never had an encounter on this campus where race has been discussed … other than the 'Die In.'"
The 'Die In' was a student demonstration that took place in Dec. 2014, at the height of racial tensions in Ferguson, Mo. Students laid down, or "died" on the university seal, to bring attention to the issue of racial injustice.
"If we're supposed to be this liberal utopia [where] everyone is accepted, then this is something that should be concerning," Kanu said.
And as an Holy Cross school with a social justice platform that encourages individuals to pursue a more just world by confronting critical issues of society and seek justice and peace, why is it that only the issues of certain individuals are highlighted?
The fact is, St. Edward's is an educational institute that serves a diverse number of groups. It's undergraduate body alone is 41.3 percent Hispanic, 36.9 percent white, 8.5 percent are non-residents, 3.8 percent black and 3.1 percent Asian, according to Institutional Research.
"Right now, St. Edward's is in a period where it's starting to truly embrace diversity," Morgan said.
And that raises the question of whether or not the university will approach diversity in a way that allows everyone a seat at the table.
That means speaking on issues that affect students that are impacted by immigration issues such as the Syrian Refugee Crisis or increasing xenophobic rhetoric in the 2016 presidential election.
Or maybe that means checking white privilege and continuing an open and honest dialogue about the way race affects students on campus, instead of perpetuating the erasure of the discussion of race.
"I think St. Edward's is reflective of the country in a way," Kanu said. "This really is a conversation that has to be had and we have to deal with it."