Senate talks smoking ban, new legislation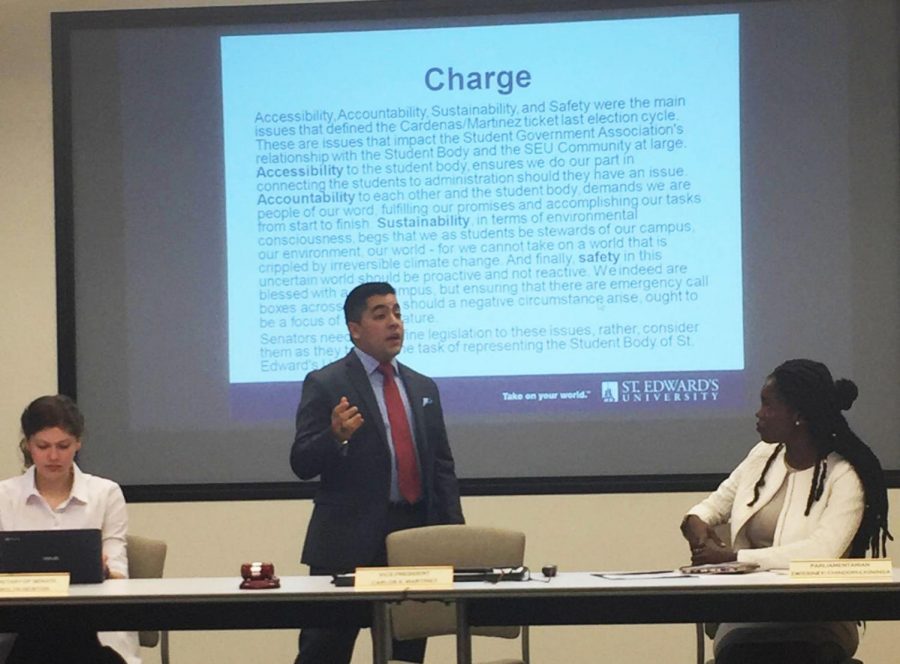 Amanda Gonzalez
September 26, 2016
A smoking-ban referendum, new accountability codes, voting registration, and inductions were hot topics during the Student Government Association's formal senate meeting of the year on Sept. 22.
Smoke free campus referendum
SGA President Jamie E. Cardenas and Vice President Carlos A. Martínez announced plans to meet with administrators in Student Affairs to discuss a campus-wide smoking and tobacco ban referendum that students voted in favor of last year.
Despite the fact that last year's election had the highest voting turnout in SGA history, only 731 students voted. The smoking and tobacco free campus referendum passed with 61.69 percent approval on April 15. Now SGA and university administration will brainstorm on logistics and where to go from here.
During the meeting, Hilltop Views asked Martínez if SGA would consider using a questionnaire or electronic survey to gauge a larger amount of the current student body's opinions on the smoking ban.
"That information would be useful in other realms, but I don't think it would be something we could take [to administration], just because it's not as formal," Martínez said. "Because the referendum is part of the voting process, it's a very formal, very established way of us receiving information."
Martínez said that the low voting turnout falls back on SGA, and that this year's efforts needs to be stronger. SGA will present information from their administrative meeting at the next formal meeting Oct. 6. 
Accountability codes
Parliamentarian Zwiesineyi Chindori-Chininga, a sophomore, was inducted, as she replaced Ashley Esparza. Esparza resigned from the position after one week.
Chindori-Chininga's first order of business will be adding text to the Accountability Code for the governing body. 
Last year's Parliamentarian Faith Castillo, and the senate, eliminated SGA's accountability code in a controversial vote on Feb. 18, and new codes were never written.
"I just want to make sure that everything that I am currently noticing about our codes that could be strengthened and edited is worthwhile before I bring it to the senate," Chindori-Chininga said. 
Chindori-Chininga's said her text suggestions are being evaluated by the Executive Board, and advisors. Other than the Accountability Codes, she plans to improve procedural details that outline proper steps and protocol for the different branches.
Voter registration
Cardenas highlighted SGA's Constitution Day success in her Executive Report, saying over 50 students registered to vote.
Registration for the general election will be in Ragsdale all week from 11 a.m.-2 p.m, and in the RCC Tuesday, on Oct. 4, 6 and 8 from 4 p.m.-8 p.m. SGA also plans to attend Freshman Studies and LLC classes to target the maximum amount of student voters for registration.
Inductions
Five senators were inducted into SGA. Freshman Sen. Caycee Arreguin wants to focus on inclusion legislation that allows commuter and international students to feel welcomed at the university.
Similarly, sophomore-transfer Sen. Ashley Ikemenogo plans to pass legislation that will have a positive impact on commuter and international students by using electronic surveys to have a stronger outreach.
Sophomore Sen. Jack Leon wants to focus on making the campus more sustainable and implement Town-Hall-style meetings with open-mic nights at Jo's.
Junior Sen. Cameron Galvan wants to help make St. Edward's more inviting by focusing on safety. 
Junior Eliza Quintana is now a Justice for the Student Court of Appeals, after being nominated by the president and confirmed by the senate.
SGA passed one piece of legislation at the meeting, which officially created the role of Deputy Communications Director. 
Budget
SGA also inducted freshman Chief Financial Officer Juan Alvarez, who also serves as the Executive Chair for the Dujarie Residence Hall REPs, Event/Marketing Director for Her Campus, Vice President for Speech and Debate Council and is seeking officer positions in PRIDE, Women's Empowerment, as well as being involved in the Chinese Club.
 "Being so involved on campus, do you believe that you will have time to fully commit to the Student Government Association?" Sen. Oliver Guerra.
"In my years of leadership positions, I have tweaked my time management skills," Alvarez responded.
The newly-inducted CFO introduced his plans to reallocate funds within different SGA branches. Looking at figures from the past two years, Alvarez's moved money from Legislation, Courts, and External and Internal Affairs accounts, and redistributed these funds to the Big Event Committee and established an Elections Commission fund to promote SGA.
Ten senators voted in favor of his new budget proposal, while Guerra abstained.
New initiatives 
Cardenas and Martínez also introduced a charge to the senate, emphasizing the four pillars of their presidential campaign: accessibility, accountability, sustainability and safety, designating nearly 30 minutes for senators to bounce around issues to help inspire legislation ideas.