Honors students present research at conference on college composition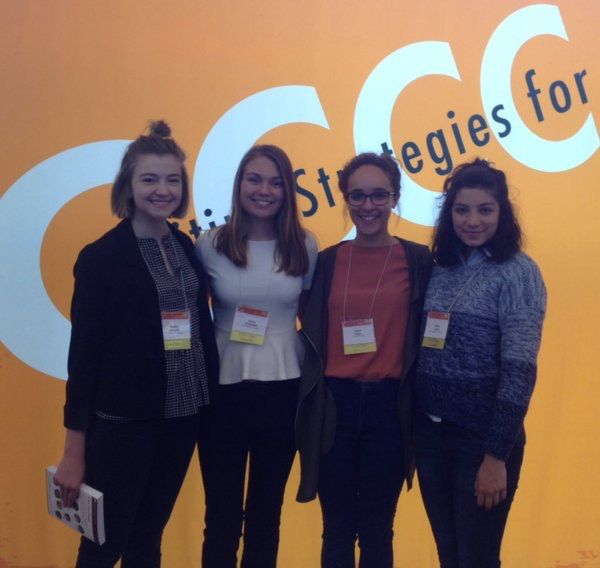 Kayla Sulewski
April 11, 2016
St Edward's University students recently presented their English writing research at the Conference on College Composition and Communication, also known as the 4Cs.
The conference was from April 6-9 and took place in downtown Houston, Texas, at the Hilton Americas-Houston and the George R. Brown Convention Center.
As the conference was severely under-attended by undergraduate students, this was a unique opportunity for three St. Edward's freshmen to present at a national writing conference to an audience of big name rhetorical scholars and university professors.
"I have never been more energized by a bunch of English teachers," freshman English writing major Laura Irwin said. "I think that's what really got to me: the energy that I thought everyone had."
The annual conference featured three days of lectures and presentations by acclaimed college composition scholars such as Peter Elbow and Doug Downs. While the biggest focus of the conference was emerging research in the fields on composition, rhetoric and communication, this year the conference featured numerous booths from start-up companies and initiatives.
A unique aspect of the conference this year was the focus on teaching writing to students in the digital age and the incorporation of multilingualism in writing studies. Both are topics particularly relevant to this generation's composition and communication education.
St. Edward's English writing faculty members also gave presentations at the conference.
Associate Professor of English writing Drew Loewe hosted a session entitled "Getting Involved: Civil and Legal Literacy."
Assistant Professor of English writing Chris Gerben shared a presentation entitled "Perceptual Beta: The Importance of Changing Terms for Online and 'New' Writing with Our Students."
Writing Program Administrator and Director of First Year Writing Moriah McCracken co-hosted a presentation with Brittany Johnson, head of library instruction at the Munday Library. The presentation, "Advocating for First-Year Writing and Library Partnerships through Shared Threshold Concepts," featured a student panel with freshmen English writing majors Shelby Bennett and Irwin, freshman art major Chloe Curiel, and senior English writing major Kayla Sulewski.
As it was their first time presenting at a large conference, the students were reasonably nervous but presented professionally and intelligently during their panel.
"We all said how we felt [about the research] and we were honest and I think that's all they wanted," Irwin said. "I think the fact that we believed in the research and we believed in what we were saying … made the presentation all the more natural."
The conference concluded on April 9 with select morning panels and last-minute book releases at the publishing booths. Penguin Random House publishing house had a booth set up where they gave out free recently released literature to conference attendees.
The freshmen who experienced the conference found the experience to be an important part of their undergraduate careers, especially as they prepare to present at the Symposium On Undergraduate Research and Creative Expression on April 15.
"As an English major it was definitely worthwhile for me to experience this," Irwin said. "Honestly, it solidified my passion for English, seeing so many people out there who care about the subject as much as I do."
The 2017 Conference on College Composition and Communication will be held in Portland, Oregon. The conference fee for students is $45.