Irish folktale perfomance hits Sixth Street for SXSW
At the start of South by Southwest, Sixth Street delivered another one of its infamously wild nights. And we're not talking about the booze. Think more along the lines of a fearsome firework-laden metal wolf, 15-foot animal puppets and an Irish folktale driving the entire event.
Saturday night, Sixth Street goers were ensued in a spectacle of creativity and splendor, as the Irish theater company, Macnas, hosted their first stint in Austin, Texas. The theater spectacle company premiered the story of The Wild Hunt and the Sleepwalker for the vivacious streets of SXSW.
The story depicts the chaotic imagination of a boy caught in a dream of epic proportions that plays out in the streets. As the boy pursues this mystical butterfly, he finds himself wandering deeper and deeper into the foreign recesses of his imagination. He comes face to face with a variety of unique creatures, from a rhinoceros in a wheelchair to a fierce wolf.
By far, the fan favorites included the wolf head, modeled with metal wire and hoisted on a cherry picker. The crowd, merely feet away, could feel the heat when the fox burst into flames while firemen surrounded it with torches, and, of course, a fire extinguisher incase.
The Macnas artistic director, Noeline Kavanagh, explained what brought the company to Austin for its SXSW debut, as well as why they chose this story to perform.
"Keep Austin Weird had a lot to do with [coming to Austin]," said Kavanagh. "[I chose this story] because I just thought that a giant eight-year-old boy walking through the streets with a rhino and a couple of creatures and a scary wolf was a great idea."
To put on such an incredible show, the international theater company habitually reaches out into the host city's community, employing a combination of Irish coordinators and civic volunteer performers. And in a community as vivacious and diverse as Austin, Macnas had no trouble finding performers.
Tommy Casby, a member of the Macnas production team from Galway, Ireland, spoke about what a unique and effective approach the company takes in involving community members of their host city.
"I think what we're sharing is that sense of fun, that sense of togetherness," said Casby. "You know we involved a huge community of guests from here. It's the same way we work at home and the reactions are the same, people's experiences are the same."
Michelle Dahlenburg, a volunteer performer from Austin, expressed what an outstanding experience she'd had creating and putting on this show.
"It's just been amazing to meet the Macnas team. Also just meeting a whole bunch of people in Austin that are also artist and performers and dancers that I'd never met before and we'd normally never meet but because this project brought together so many different kinds of people, we got to meet," Dahlenburg said.
About the Writer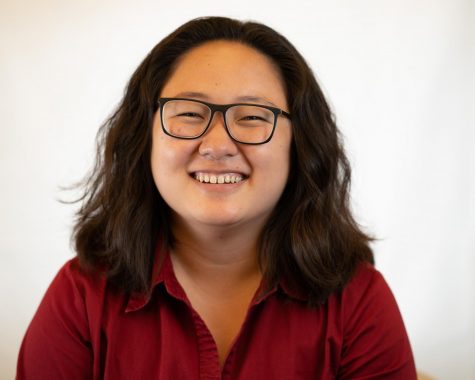 Lilli Hime, Staff Writer
I am Lilli Hime—English Writing and Rhetoric major and freelance writer at Hilltop Views. This is my senior year at St. Edward's University.

My role...