Asia Pacific University students experience Austin's 'outgoing' community
Haruno Yamauchi, Nono Ueda and Ryosuke "Sako" Mizusako are all Japanese students who are currently part of the St. Edward's University/Asia Pacific University (APU) program. The program brings 21 high school graduates from Japan to St. Edward's for two weeks every spring semester as part of their orientation for APU.
In their visit, the students take two classes, an APU course about their school and an English course, which allows them to prepare for their upcoming studies. Students also explore Austin and experience a new culture. Students have been able to visit places all around Austin and room with current SEU freshmen to get a little taste of the real American college experience.
"Japanese are shy and Americans are outgoing, so the visit helps us be more friendly," Ueda said when asked how the visit will impact her and her colleagues.
Although all the students know some English, the APU program helps them completely immerse themselves in American culture.
"Our visit has been great. Americans are very talkative, which has helped me be more active and talkative also," Mizusako said.
When asked about the differences that surprised them most, they all agreed that the food is much bigger here than in Japan. Yamauchi confessed being taken aback when she ordered ice cream at Amy's and found that the "tiny" size was the same as Japan's small.
When the students saw how big the portions were in the cafeteria, they said they had to remind one another to ask the chef for "only a little bit."
Mizusako, who has also visited Oregon and California, said that he loves how diverse America is, but was also intimidated by it all.
"It was scary at first, but everyone is very nice in reality," Mizusako said.
Although the students have fallen in love with Austin and the people here, there are some things they are not willing to try.
Japan traditionally has a more conservative culture. The exchange students said it was odd to see girls showing so much skin. Haruno said she was not accustomed to seeing "so many girls in short-shorts," but understood after she realized how hot it is in Texas.
The students were not accustomed to Austin's social acceptance of tattoos, either.
"If you have tattoos, you are not allowed into hot springs and pools," Mizusako said. "Only strange people have tattoos in Japan."
Ueda said that piercings are also not so common, other than the usual pair on the ears.
From these realizations about American cultural — along with many others — Mizusako and Ueda said they gained a lot of experience that they know will help them back home.
"I already miss my friends," Mizusako said. "But I am glad to be here because I think the people are so kind and so friendly."
While the students come from all over Japan, the APU program gives them the opportunity to form a community with other students in the same position, as well as with local students. Although making friends while abroad can be intimidating, the students counted this challenge, along with others, as experience.
"We have a lot of experience. We grew up a lot," Ueda said. "We will miss Austin."
About the Writer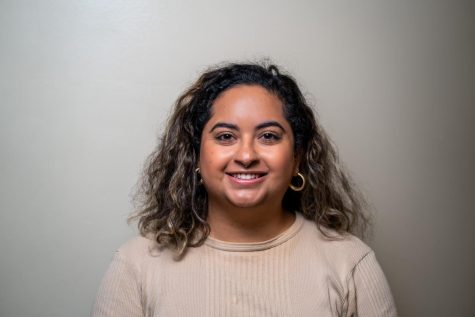 Myrka Moreno, Social Media Editor
I am Myrka Moreno - Digital Media Management, Journalism minor and Social Media Editor at Hilltop Views. This is my senior year at St. Edward's University....