Gambling, ribbon dancing part of St. Edward's Lunar New Year celebration
Technicolor lights splashed across the walls of the Mabee Ballrooms while white bulbs hung suspended overhead, all complementing the main attraction — an intricate monkey projection on the back wall. These extravagant lights set the stage for the Lunar New Year celebration, hosted by the Multicultural Leadership Board and Chinese classes.
Upon entry, students received coins in little red bags to gamble away in a game called bau cua, a traditional Vietnamese gambling game. Students competed to earn enough coins for prizes, watching their winnings either double or drop. 
Some students just played for fun; however, for those who sought a prize, MLB delivered. Prizes included MLB shirts, sunglasses and a variety of Asian treats such as Choco pies, pocky, thai tea and a green tea kit kat.
Students also got the chance to make Chinese lanterns, attach a wish and take them home to hang up. Hsing-Chih Yu, the Chinese instructor, and her students hosted this table as well as an authentic skit depicting the story of Lunar New Year. Complete with Asian music in the background, a Chinese voice over and a Nian dragon costume, the Chinese students delivered a humorous and authentic play.
"I think our skit went pretty well," Chinese student, Amanda Braders, said. "[My favorite part was] just being with my Chinese class and laughing and getting free food. My Chinese class tried to make it really cultural."
Yu explained the traditional tale of Lunar New Year that shaped how the holiday continues to be celebrated today.
"In traditional Chinese New Year, legend says there's a monster called a Nian, the Year. So, the monster comes New Year's Eve," Yu said. "Then people run out of the town because [they're] afraid the monster is going to eat a person. Then there was an [old woman], who told the people, 'don't run away because I have a way to escape the monster.' So all the traditional things people do now like put red paper on wall or fire the fire-crackers and then also make a lot of noise to escape the monster."
Entertainment also included some beautiful ribbon dancing and two University of Texas at Austin poets whose words gripped the crowd.
"The event was really lovely and I feel like there was a lot more research going into it than a lot of people who try to put on Lunar New Year festival," Jasmine Bell, UT poet, said.
"Ya'll went all out for this," Joshua Nguyen, UT poet, said. "I wish UT did stuff like that, like did more research about it. Even the legend was accurate. It was a good experience, the audience sitting down was really receptive, and they laughed at my jokes."
Yet the tastiest entertainment was the delicious Asian fare. The restaurant Hai Ky provided egg rolls, chicken dumplings and pork wontons, while Texas Bakery served up some delicious desserts.
Asian Events Coordinator Dhara Mistry reflected on how the celebration turned out.
"I enjoyed working on Lunar New Year. I think it went really well. How everything's gone, everything's fantastic, done on time. The performers were amazing, and the lighting was spot on. It was everything I imagined."
About the Contributor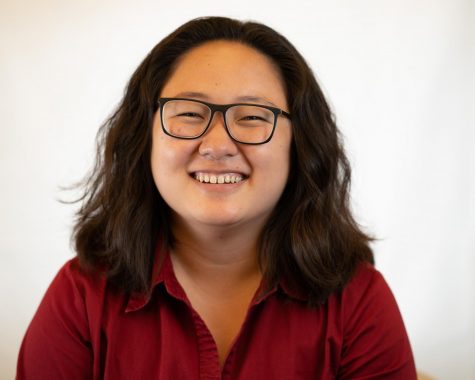 Lilli Hime, Staff Writer
I am Lilli Hime—English Writing and Rhetoric major and freelance writer at Hilltop Views. This is my senior year at St. Edward's University.

My role...