Blanton displays Crusader Bible pages in new exhibit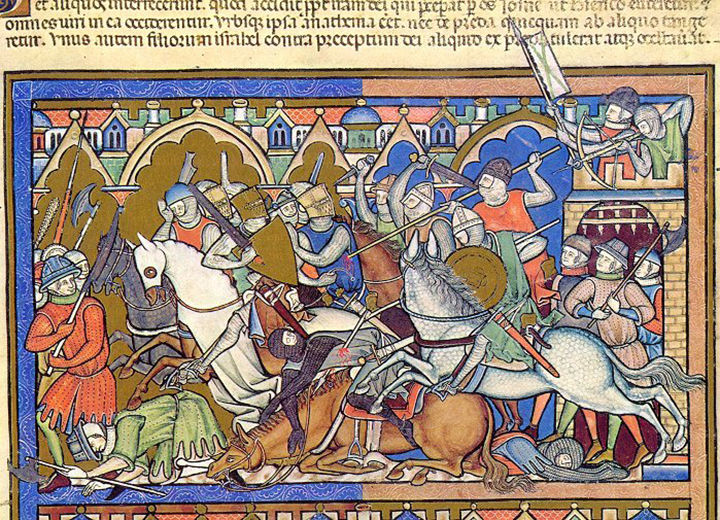 ShelBennett
February 3, 2016
When trying to decide how to spend a beautiful weekend in Austin, going up to the Blanton Museum of Art and checking out an 13th-century manuscript might not be the first thing on your mind, but it should be.
The Blanton Museum of Art at the University of Texas is a standard spot for Austin art-lovers and their permanent collection of over 17,000 works features everything from European classics to contemporary pieces to ancient Greek works.
"The Crusader Bible: A Gothic Masterpiece" is an exhibition featuring over 40 unbound pages from one of the most famous medieval French illuminated manuscripts and is on display at the Blanton. The pages are on loan from the Morgan Library & Museum in New York, and the opportunity to see this many of the Crusader Bible pages together in one exhibition is definitely worth the drive up I-35.
Now, if you're not an art history student or an expert in medieval history you might be wondering what all the fuss over a really old book is about. In the Middle Ages long before the invention of the printing press, books were difficult to make and hard to come by.
The Crusader Bible, believed to have been created in Paris for Louis IX in the 1240s, is a beautiful example of manuscripts of this time period. If a manuscript contains illustrations it is called an "illuminated manuscript." These illustrations or illuminations feature lively images from the old testament that give you a glimpse into medieval life during this time period.
Medieval illustrations are brightly colored and decorated with gold leaf. Although the pictures are small in size they are large in personality. The tiny paintings on the manuscript pages are thoughtfully composed, wonderfully animated and beautifully detailed.
Another compelling reason to check out the Crusader Bible is its fascinating history. The Bible has been spent time all over the world from France to Italy, Persia, Poland, Egypt, England and finally the Morgan Library & Museum in New York.
As a result of its travels, the Crusader Bible features handwritten inscriptions in Latin, Persian and Judeo-Persian on its pages.
Can't read Latin, Persian and Judeo-Persian? No problem. The Blanton has iPads that translate the text for you — all you have to do is hold the camera in front of the page.
Although medieval manuscripts may not sound like the most exciting way to spend your afternoon the Crusader Bible exhibition, on view at the Blanton until April 3, is worth checking out. After seeing the Crusader Bible, wander around the permanent collection to get a dose of culture from ancient Greece to New York in the 1960s.
Admission to the Blanton is five dollars with a St. Edward's University student ID, and the entire museum is free on Thursdays. The museum is closed on Mondays and open from 11 a.m. until 5 p.m. during the rest of the week. On the third Thursday of every month the museum is open until 9 p.m. The Blanton Museum of Art is located on MLK at Congress. More information is available at www.blantonmuseum.org