Conversation Club reinforces culturally diverse campus community
When you arrive at a place where the indulgence of exotic coffee is almost as good as the company, then you must have stumbled into Moody Lounge on a Thursday evening.
The newest addition to St. Edward's University's already vast array of organizations is the Conversation Club, which brings together both international and domestic students in a friendly environment to share their different cultures.
In the past, students eagerly discussed the topic of their favorite place in Austin before a fun game of "Heads Up!" All this while enjoying Valentine's cookies as well as Arabian coffee and dates that club member Fahed Farie brought.
Every meeting, members will play fun games and bring in treats from their home country to share over the club's weekly dialogue. Laila Al-Yafi, a St. Edward's alumna and co-coordinator, explains a couple goals for the club.
"So, every week what's going to happen is we're going to have a topic for the students to discuss. From the topic, people start talking about something else, which is what we want," Al-Yafi said. "We want people to feel comfortable like they're with a group of friends, speak English, feel more relaxed around people, it's about having fun."
Conversation Club members Fahed Farie and Bianca Ross both expressed that their interest was spurred by the desire to immerse themselves in different cultures and make new friends along the way.
Farie, who moved from Saudi Arabia in 2012, explained that his favorite aspect was the company, as well as the ability "to communicate with different cultures and learn new things."
"To me, Conversation Club is about being able to have open dialogue with people who are from other parts of the world," said Ross, from Lionel, Texas. "And having the opportunity to share different ideas, learn some new words, and learn about new foods."
The Conversation Club serves both international and domestic students alike, offering the opportunity to expand their horizons through discussion and camaraderie. In addition, international students get the chance to practice their English in a relaxing, non-classroom environment while English-speaking students get the chance to hear different languages and maybe try their hand at it.
"Well it certainly supports the globalization piece [of the St. Edward's mission]," said International Student Support Coordinator Kathy Jackson. "As we all know that when we embrace each other's culture, there's a lot more tolerance and understanding."
Co-Coordinator Gabriel Calderaro agrees with this purpose and speaks about what the club means to him as a Brazilian international student.
"I think it makes the foreign students feel even more accepted because I'm a foreign student and when I came, I would think, 'Oh my gosh, perhaps they're not gonna like me or they're gonna make fun of me,'" Calderaro said. "And here, we're sharing, Americans actually want to talk to you; they want to accept you, so it's really great. We're creating a small community here where you're just safe and you can come and talk about things."
The true undeniable genius of the Conversation Club is the interconnectedness it creates between such diverse people in such a short time. It highlights similarities and mere human connection to amplify understanding and appreciation.
"I think [it's] having a global experience within an hour," Al-Yafi said. "That's what's so beautiful about it. You bring people from different parts of the world into a single room and for an hour you're all on the same level together and that's the beauty of it."
About the Writer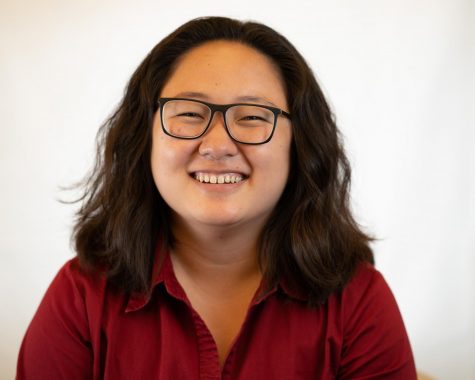 Lilli Hime, Staff Writer
I am Lilli Hime—English Writing and Rhetoric major and freelance writer at Hilltop Views. This is my senior year at St. Edward's University.

My role...