Fans remember Bowie as the immortal who changed music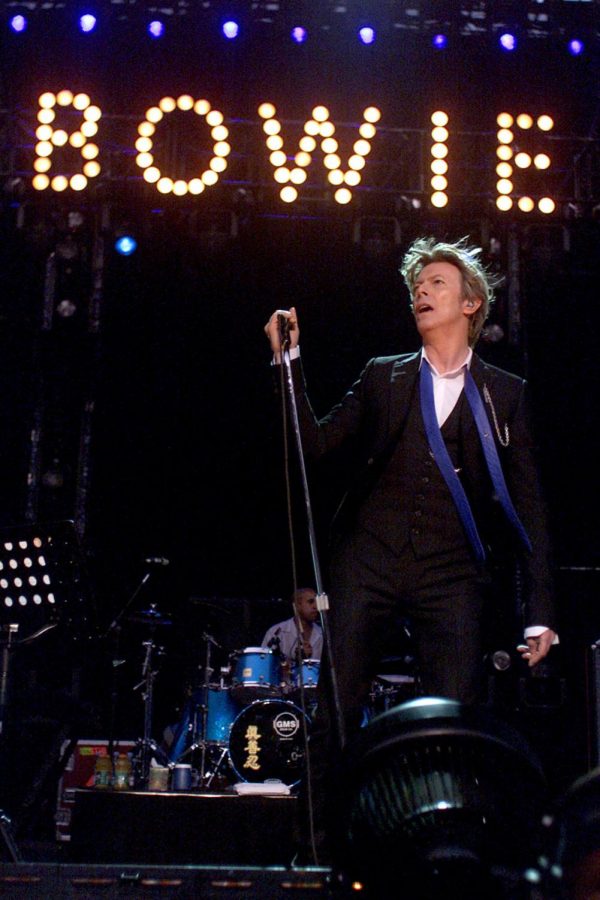 Kayla Sulewski
January 21, 2016
On Jan. 10, musical legend and androgynous visionary David Bowie passed away after an 18-month struggle with liver cancer.
Days before his death, Bowie released a haunting music video for his song "Lazarus" which has reached over 23 million views on YouTube. The video portrays Bowie struggling in a hospital bed and dancing in front of a wardrobe.
Many see the music video as a farewell note from Bowie. The hospital setting shows his struggle with his health, and the lyrics from the song – "Look up here, I'm in Heaven / I've got scars that can't be seen" – are interpreted as a goodbye from Bowie. The entirety of his recently released album, Blackstar, is self-aware and existential, featuring numerous references to Bowie's knowledge of his own coming death and desire to be more than a pop star fad.
In the week following his death, many artists, musicians and public figures recognized Bowie for his legendary career and influence on music, fashion, cinema and the world.
Belgian radio station Studio Brussels and the MIRA Observatory registered a constellation in the shape of Bowie's iconic lightning bolt as "Starman" to remember the fallen icon.
In downtown Austin, fans of the musician changed the street sign for Bowie street to read "David Bowie St." – a tribute that will be left up until Jan. 19.
Many musicians have already released their own tributes to honor Bowie's memory. Madonna performed a cover of "Rebel, Rebel" in front of a crowd in Houston, while Elton John paid his respects with an instrumental piano tribute to the singer in Los Angeles. Kanye West is reportedly planning on creating a solo tribute album to honor Bowie's musical accomplishments.
Bowie's legend shines not just in the way he transformed music, but in the way he transformed himself. Bowie was a master of transformation, changing his style from the glamorous alien-emissary-turned-rock-star Ziggy Stardust, to the androgynous Thin White Duke, to the wild Goblin King while always remaining true to himself.
These transformations were a large part of the dedication of his fan base; no matter his persona, Bowie was always an outcast – he was a voice for the misunderstood and underrepresented in the world. He was the man who shouted "You're not alone!" to a stadium of lonely youths. He was the man who dedicated an entire music video to acknowledging the injustices faced by Australian Aboriginals. He was the man who called out MTV for underrepresenting the work of black artists. He consistently fought for equality and the recognition of all people, and it was this ability to transform and compassion that made people believe in Bowie's from-another-world image.
His eccentric oddities, alien alter-egos and superhuman ability to bring the world together through his music made many believe that Bowie himself would somehow be able to beat death. That is why it came as such a shock when he died – the superhuman hero was a mere mortal.
Bowie was the closest any of us have ever been to a celestial body. He inspired millions and will continue to do so forever, as only one truly made of stardust can. Thank you, David Bowie, for reminding everyone not to give up on life and to be nothing less than yourself.