Student from Zimbabwe comments on Austin, Harare cultures
One of the great things about St. Edward's is that at any one time a person can walk through campus and hear many languages and accents.
It often seems like the world meets here. This can be attributed to the vast diversity of international students that call this place their second home. Every international student is gifted with a unique journey completely their own, which includes different cultures, personal growth, and a new perspective on the world and maybe even life.
Coming all the way from Zimbabwe, Africa, freshman Zwiesineyi Chindori-Chininga shares her roots and what she hopes to gain on her journey.
Growing up with a faith rooted strongly in Catholicism, Chindori-Chininga naturally sought a university that upheld those values while looking for options outside of her country. This led her to the famous red doors of St. Edward's.
"I felt like if I was going to go so far away from Zimbabwe and be so far in a place, I just wanted to have something to make me feel at home a little bit, so I thought that would be the Catholic atmosphere. That's why I chose St. Edward's," Chindori-Chininga said.
Chindori-Chininga had never lived outside of Harare, the capital of Zimbabwe, but the culture shock of coming to another country met her with surprisingly calm nostalgia and a pleasant peace. She has discovered just how different the American culture is as well as how uniquely weird the Austin culture is.
There's a certain excitement that takes over her demeanor when characterizing these huge differences from her home. She noted that America is like a crossroads for a vast number of cultures and that Austin is an especially great representation of this. It is a stark contrast from the Zimbabwean mix of British and Shona, which is the language and culture of the main tribe.
"Here you get banana flavored chips. Food here is super creative." Chindori-Chininga said on the weirdness of Austin.
"The food places are all really eccentric. Like, they're all really really different. But I think more than that, people are super eccentric. There's so many different types of people and they do so many different types of things. That's the weird part. Good weird," Chindori-Chininga said.
The international student has eagerly immersed herself in this "weird" culture the city boasts about, becoming as much an Austinite as anyone. So far, she has explored Castle Hill, Mckinney falls, Barton Springs and South Congress, with intent to do much more.
Chindori-Chininga has also taken advantage of the many volunteer opportunities to help serve the community that has adopted her, crediting her service as the most rewarding part of her time in America.
She has worked with SERVE Austin, SERVE 1 Day, and is planning on going to El Paso to serve immigrants with SBE.
"I think because community service is really really big to me, so doing community service here is so so so fulfilling… All the people I'm working with are Americans and I get to hear about their experiences and the people I'm (serving) happen to be refugees so I get to hear about their experiences from Eritrea or Somalia or Iran…With them, it's like we're both foreigners, but they're in a different place and I get to serve them. That's been super rewarding," Chindori-Chininga said.
Chindori-Chininga's ultimate goal at St. Edward's is to get a degree in biology and environmental science, so that she may help improve her country. Explaining how she hoped to help lift up Zimbabwe seemed to ignite a calm passion in her, as she enthusiastically described her ideas for the future of her home country.
"One day I hope to be president of Zimbabwe… So, I'm trying to get into that using biology and environmental science to start using sustainable agriculture to basically generate more GDP for the country and try to make it more prosperous. Also, I intend on studying single celled organisms, in particularly one called Euglena… It just basically gives you all the nutrients you need (in small portions). That's one of the organisms I intend on looking into to try and see if I can use that or a similar one to deal with poverty and starvation in other 3rd world countries including Zimbabwe," Chindori-Chininga said.
Chindori-Chininga's is just one of many one-of-a-kind journeys that international students experience. Hers has brought her to the beautiful university of St. Edward's where she'll take the first steps to leaving her mark on the world.
About the Contributor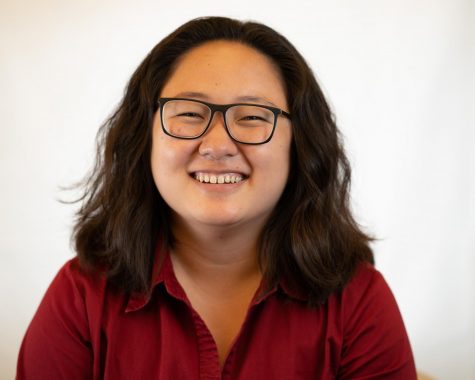 Lilli Hime, Staff Writer
I am Lilli Hime—English Writing and Rhetoric major and freelance writer at Hilltop Views. This is my senior year at St. Edward's University.

My role...