Steve-O talks about life, career, comedy show coming to Austin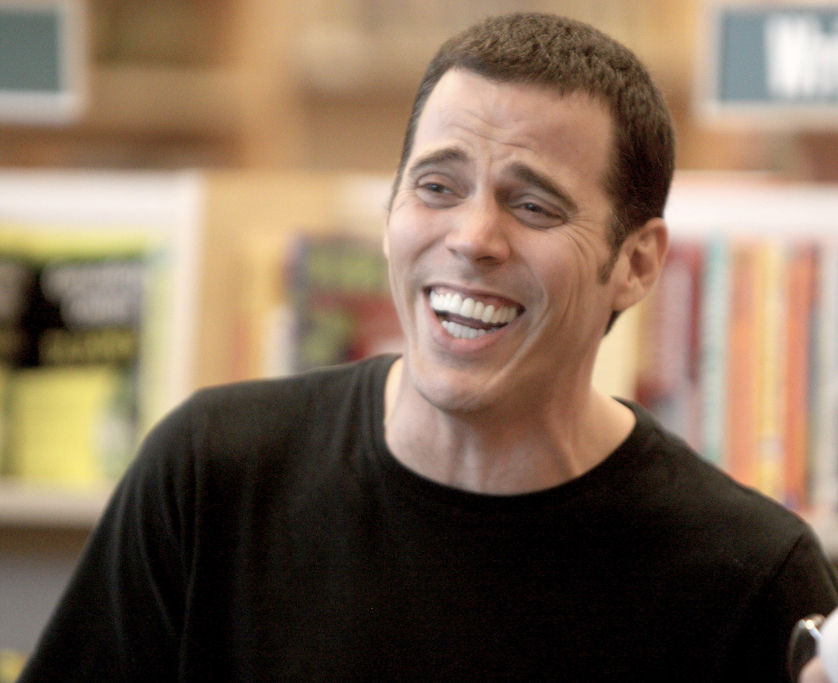 Alex Dotson
November 13, 2015
Stephen Glover, otherwise known as the madcap stuntman Steve-O, became a cultural icon after his success in "Jackass," and he has maintained his signature humor and boldness during all the diverse transitions of his life since then.
However, some of these transitions have been characterized by hardship, namely in his struggle with drugs.
Following the "Jackass" years, Steve-O's identity as an unstoppable party-animal became one he lived up to just about anywhere he went; whether it was by his own volition, the pressure to do so or a mix of both is an uncertainty.
Regardless, this could be seen especially around the inceptions of "Jackass 2" and a spin-off series called "Wildboyz." Before filming the second installation, he had been practically addicted to cocaine but agreed to stop for the sake of the movie.
"I was at death's door … and the good I saw in that was that I [would] be reunited with my mom," he said in a phone interview.
After a year and six days of being without drugs, he fell back into the throes of addiction to cocaine, ketamine and nitrous oxide, an inhalant referred to as "Whip-its."
In "Demise and Rise," a documentary about these pitfalls in his career, Steve-O said, "I was so afraid of the spotlight going away that … I [needed] to outdo myself for the paparazzi."
He even began a rap career that many of his loved ones saw as a catalyst for more drugs and less humor. With this lifestyle only escalating, he eventually found himself in heat with his own employer, MTV Studios, due to his behavior and intoxication.
After an arrest for cocaine possession in 2008, he quickly fell into a downward spiral to the point of planned suicide, where the "Jackass" cast, his greatest friends, arrived and forced him into an intervention.
He traveled between what he called "looney bins" (mental institutions) for the better part of 2008 and suffered psychological torture until he resolved to get better not only for the world, but for himself; it was at this point that he was motivated to work toward full recovery.
After a successful year of sobriety and stunting, Steve-O found himself on the rise to fame and a packed lifestyle once again. He made it on the 8th season of "Dancing with the Stars," though he quit as a result of injury.
A third installment, "Jackass 3D," was released in the fall of 2010 (a box office hit just like its predecessors) during which he adopted veganism for the sake of health and compassion. He then appeared on the Howard Stern Show and set himself on fire, much to the confusion and dismay of Stern.
Steve-O even began a nine-month long comedy tour after the release of "Jackass 3D" and wrote "Professional Idiot: A Memoir" the following summer.
In several other instances he made appearances, such as on the 2011 Comedy Roast, reality TV shows and Miley Cyrus' "Wrecking Ball" music video.
Most recently he has established a 3 million strong base of subscribers on his YouTube channel, which is full of vlogs, pranks and celebrity cameos, including 50 Cent and members of the "Jackass" cast.
In LA on Aug. 9, Steve-O climbed a construction crane and tossed a large whale blow up doll — labeled "Seaworld Sucks" — over the edge of the Seaworld gates, which got him arrested for 30 days.
He has continued to challenge Seaworld since then for the sake of proper animal protection. However, something that is incredibly important to Steve-O today is his comedy show in Austin on Nov. 21st.
Steve-O said that the show is "a culmination of so many years of madness and work" and that he is "betting on how good it is." He said it will be "taking everything I've ever learned and putting it into the greatest show that I could ever do."
All of his crazy experiences across the spectrum will come together at the Paramount Theatre, in what he said will be "one of the biggest nights of [his] life."
Thus, as he prepares to "go to war" on stage, Steve-O's future bubbles with prospects, and his legacy of entertaining, inspiring and challenging the status quo carries on to new heights.