International student soaks in American culture, comments on experience
St. Edward's prides itself on its grand mission statement: challenging students to "take on (their) world." The university offers a global atmosphere with a population rich in diversity and different perspectives. International students are a perfect representation of this call to action, enriching the school with their culture while in turn enriching their own lives in ours.
Freshman, Chrystalla Christodoulou, shares insight into her personal journey, leaving her home in Cyprus to build her second home on the hilltop.
Christodoulou said that the current economic crisis crippling Cyprus led her and her family to come to America in pursuit of the abundance of opportunities this country promises. The student discovered St. Edward's University specifically through a family friend who doubled as her college advisor and suggested the school for its likeness to Cyprus.
"In Cyprus, we have a really strong sense of community as well. People are always looking out for each other. It's small so whoever you talk to, you have mutual friends. It's like an island of Facebook," Christodoulou said.
Christodoulou commented on how St. Edward's close knit community resembled that of her home, making the monumental move across the globe a little easier.
However, despite these similarities, Christodoulou still endures her bout of homesickness just as all freshmen living away from home for the first time. The only difference is her home is on the other side of the world, along with her family and friends.
"The hardest thing right now is that I don't know when I'm going to be able to go back. It's just hard because I'm constantly thinking about my friends and my family and my grandma," Christodoulou said.
"It's day by day. In the beginning it was really bad, but it gets better everyday. There's nothing I can do about it. I could be having fun right now and doing something productive, or I could sit and cry about my friends back home. It's day by day."
Looking at this spirited Cypriot (what citizens of Cyprus call themselves), one could never tell any of that though.
Christodoulou radiates this light-hearted, whimsical vibe that just screams fun. It's difficult to find a time when a smile isn't etched onto her face from all the excitement of being here. Christodoulou thanks St. Edward's and the city of Austin for lending her its great people and crazy experiences that have so enriched her time here.
"I came here and I immediately found some good people that I'd want to invest in being friends in. That was really important for me, just to find people. I love the people and I like some of the school events," Christodoulou said. "I love ACL! I love Barton Springs! I love SoCo! Also, (Half Price Books) is my favorite thing about America."
In furthering her education in our "Keep Austin Weird" culture, Christodoulou has been shocked and amazed by many of the traditions that have spun themselves into our daily lives.
Her eyes lit up with intense fascination while describing the ability to see some of her favorite artists yet no one dancing, which she believes is an "American thing."
The strangest thing? The free water, Christodoulou says. Her whole being literally buzzes with joy just talking about the topic.
"(In Cyprus) the tap water, you can't drink it. You just buy water. I almost died of happiness when I got here. That's the weirdest thing, free water."
Even the fact that many walk barefoot on campus appeals to Christodoulou because she sees it as a reflection of the university's caring yet non-judgmental atmosphere.
Although, Christodoulou didn't cross the globe just for a barefoot campus and some concerts. She is working toward a double major in English Literature and Spanish, aspiring to be a teacher in one or both languages.
"I've always loved literature and I believe in the power of education."
With a life that continues to grow increasingly busy, Christodoulou always keeps her favorite Greek phrase close to heart. Translated to English, it is: "Always keep in mind Ithaca".
"Ithaca is a metaphor for life and goals, so always keep in mind your goals in life."
So, as Christodoulou takes her first steps to taking on her world, she holds true to always keep in mind Ithaca.
About the Writer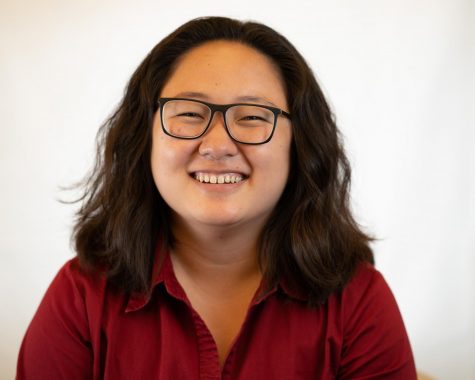 Lilli Hime, Staff Writer
I am Lilli Hime—English Writing and Rhetoric major and freelance writer at Hilltop Views. This is my senior year at St. Edward's University.

My role...