Outtakes' prices make students double-take: Local grocers much cheaper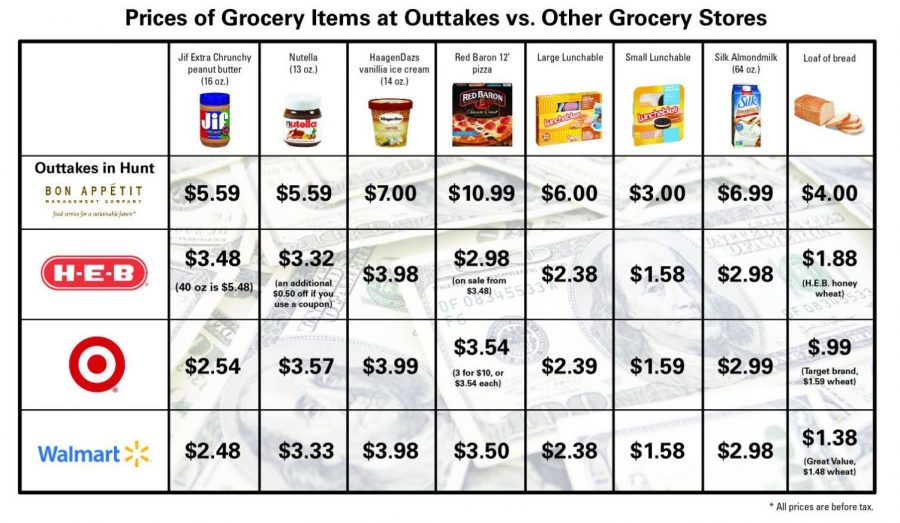 Jacob Rogers
November 16, 2015
After multiple tips from readers about high prices at the convenience store in Hunt Dining Hall, Hilltop Views decided to price out everyday food items sold at Outtakes and compare them to H.E.B., Target and Walmart.
Hilltop Views first went to Outtakes and chose eight random everyday grocery items: Jif Extra Crunchy Peanut Butter, Nutella, Haagen-Dazs vanilla ice cream, Red Baron pizza, large and small Lunchables, Silk Almondmilk and a loaf of bread.
Outtakes' prices were consistently, and significantly higher compared to supermarket prices.
Michael Smith, general manager of Bon Appetit, the university's dining service, controls the Outtakes convenience store at St. Edward's University.  He called the comparison of Outtakes to large box stores an unfair comparison, because they have more buying power.
"Our margins are set pretty much by the company, of course what we pay for products are not the same as a large grocery stores, because we purchase in minimum quantities, compared to the amount theses other business would pay," Smith said.
One of the products that reflects the most dramatic difference in prices is a 12' Red Baron pizza, which is $10.99 at Outtakes. The same pizza costs $3.50 at Walmart. You can get three of them for $10 at Target, while the pizza was on sale for $2.98 at H.E.B.
"I don't understand how that is OK? How do you get away with that?" freshman Viviel Bohler said.
"We probably paid $7 or $8 for that slice of pizza," Smith said. "In general, yeah, I'd like to have lower prices for the students."
Smith says his hands are tied when it comes to where Bon Appetit buys its products and that management above him in the company determine prices.
One of the biggest factors is the type of vendors Bon Appetit is limited to buying from, which is selective due to the standards the company requires.
Walmart, H.E.B. and Target are not approved vendors for Bon Appetit.
The main supplier for Bon Appetit is Core Mark International, Smith said. Core Mark is a supplier that mainly sells to businesses, like convenience stores.  However, Smith also called it unfair to compare Outtakes to gas stations. Smith says Core Mark gives them suggested retail prices, and Bon Appetit chooses to follow it.
Calls made by Hilltop Views to Core Mark International were not returned by press time.
Bon Appetit gives customers the opportunity to fill out comment cards and suggest ways to improve the overall experiment. Smith says he hasn't heard anything about high prices.
However, sophomore Sarah Jackson says she has her roommate drive her to the local grocery store to avoid the high prices at Outtakes.
"I don't ever get food there, because it's too expensive," Jackson said.
"If you think it's too expensive, you can shop somewhere else, and people do," Smith said. "I couldn't remember the last comment card about high costs."