UPD hosts first 'Active Shooter Preparedness' training, several more to follow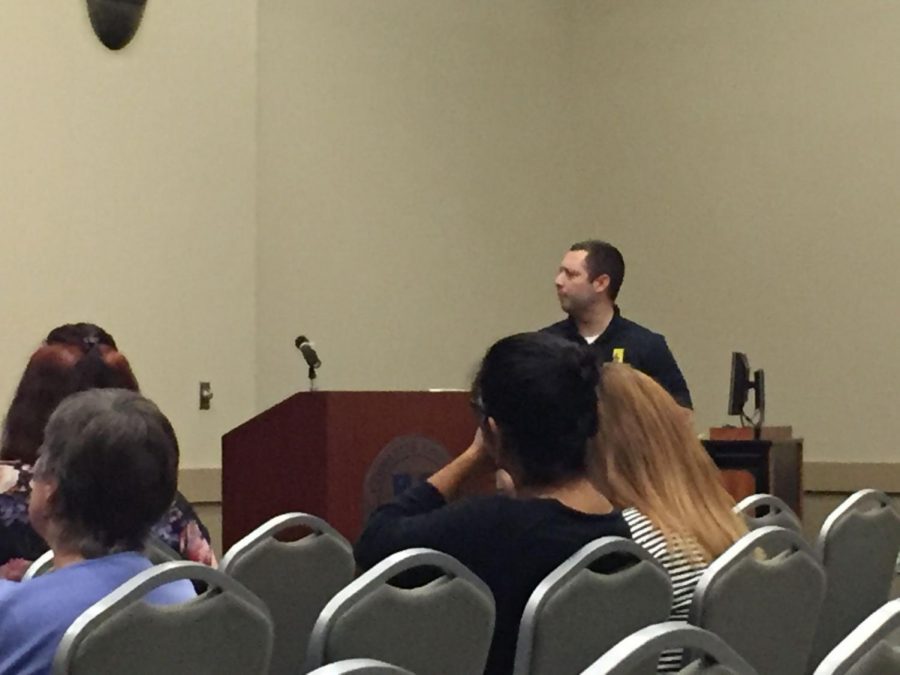 Jacob Rogers
October 15, 2015
St. Edward's University Police Department held the first of many training sessions on Oct. 15 to discuss how to respond in the event of an active shooter situation.
Students and mostly faculty and administration attended the information session led by UPD Sgt. Bobby Garcia. Garcia outlined the event to cover three main topics: disaster response psychology, active shooter events and civilian response.
This event comes after a series of mass shootings across the nation, including the most recent one at the Umpqua Community College in Roseburg, Oregon, said Mischelle Diaz, director of communications.
"It is really the university's response to hearing from the university community that there is anxiety, there were questions and that's why you saw this session come up so quickly," she said.
Vice President for Financial Affairs Kim Kvaal echoed Diaz in why she thought this was necessary to have.
"I would say that this was in response to concerns that we were hearing," Kvaal said. "And so, we wanted to address that, to alleviate, to help diminish anxiety on campus and help people feel empowered and trained so that they would know what to do."
Garcia says UPD is trained and is confident in the department if it ever had to respond to an active shooter call.
"All of our officers attend the ALERT center, which stands for Advanced Law Enforcement Rapid Response Training. It's backed up by the F.B.I and Department of Justice," Garcia said.
Garcia would also say the response to active shooters by civilians and police have evolved since the Columbine High School massacre in 1999.
"Before Columbine it was a, kind of a stand and wait for SWAT. That was the general training that most officers received," Garcia said. "After Columbine, we recognized that there needs to be a paradigm shift to where we just can't stand by where folks are dying. We have to go in and engage.
Calvin Kelly, director of the Health & Counseling Center, says his staff is able to handle the response of students and faculty seeking help if a shooting took place.
"… we understand very clearly that some students may still have some ongoing trauma that is left over as a result of having that kind of experience," Kelly said. "So we're there to offer individual and group services to them, as well as to intervene in any way they deem appropriate for any type of assistance that we can do to help them to mitigate this as best as possible."
Upcoming training sessions are open for anyone who wishes to attend. All sessions are located in the Mabee Ballrooms of the Ragsdale Center. The dates and times are listed below:
Oct. 20 @ 10:00 a.m. in Mabee A
Oct. 20 @ 5:30 p.m. in Mabee C
Oct. 20 @ 8:00 p.m. in Mabee C
Oct. 21 @ 5:30 p.m. in Mabee C
Oct. 21 @ 8:00 p.m. in Mabee C
Oct. 26 @ Noon in Mabee B
Oct. 26 @ 2:00 p.m. in Mabee C
Read more about this event in the Oct. 21 print edition and online.