St. Edward's University remains open despite weather conditions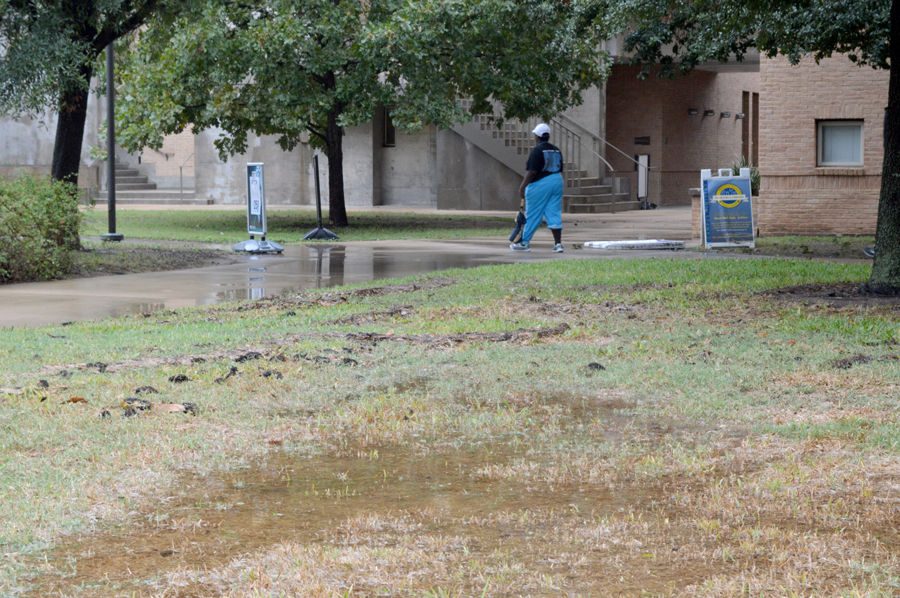 Victoria Cavazos
October 30, 2015
Editor's Note: This story has been updated throughout.
St. Edward's University received waves of criticism from students Friday when the university did not cancel class after severe flood and tornado warnings were issued in Travis County.
At 10:11 a.m., SEU announced that classes were not cancelled and advised students to "use your best judgement."
Initially, the school suggested that students "take precautions immediately" and that they "stay away from windows" and "cover [their] heads" in an SEU Alert sent at 8:54 am.
Approximately one hour later, the school broadcasted an update stating that the tornado warning had expired, but that the "flash flood warning remain[ed] in effect."
Despite several "imminent extreme alerts" from the National Weather Service warning the Austin area to take shelter immediately and avoid flood areas until 9:15 a.m and 1:15 p.m respectively, the school remained open and students trekked through several inches of water to get to class.
"There was water up to our ankles," said junior Gabriel Calderaro, who was on campus Friday. "Inside the buildings, the lights were flickering [and] the bottom floor of Moody was flooded."
There were also reports of flooding in the Alumni Gym and Teresa Hall. The Jo's at Ragsdale had sandbags outside their doors to prevent flooding.
Director of Communications Mischelle Diaz issued a statement Tuesday explaining why the university remained open.
"Friday's heavy rain and flooding were challenging for the campus. While no two weather situations are identical, St. Edward's University does have a process guiding decisions for delayed classes or closing campus," she said. "The goal is to minimize negative impacts to teaching and student activities, while ensuring the safety of St. Edward's community members." 
Elaborating further, Diaz explained that weather is often unpredictable and the severtiy of the wind and rain on Friday became apparent too late in the morning to close campus.
"Many faculty, staff and students were already on campus as the weather situation unfolded," Diaz said. "Some weather conditions will allow the university to make early decisions about class delays while others will not."
How does the university decide whether to close campus or not?
The decision to close campus because of weather begins as soon as an event is forecasted. Group conference calls are made to gather information from the City of Austin, Travis County, Travis County Sheriff, area school districts, the Texas Department of Transportation, Austin Police, Homeland Security, National Weather Service Meteorologist, Area Incident Meteorologist and other agencies.
Once the information is gathered, university administrators involved with campus operations, safety, security and facilities evaluate the forecast and consider the actions the city and schools are deciding. 
The final decision is made by senior administrators and the university's police chief.
If the conditions are predicted to be unsafe before employees and students travel to campus, but are projected to improve later in the day, the administration will recommend a delayed opening. Conditions will be monitored and if the weather gets worse a second delay or a full closure issued.
St. Edward's can also decide to close campus early if the weather becomes bad during the day.
These decisions are made as soon as possible to give students, faculty and staff enough time to make plans. If there's enough information the night before a forecasted weather event, the university will try to communicate the decision by 10 p.m. If SEU doesn't have enough information by 10 p.m., the next update and decision will come the next day by 6 a.m.
The university will notify students via its website, social media, local media, email and text.
Social media backlash
Though conditions Friday were evidently hazardous — "a state of disaster" was announced for Travis County, according to the Austin American-Statesman — students still tried to make it to class in fear that their grades would suffer.
"I live on campus, so the risk seemed smaller," Calderaro said. "I didn't want to go to class [but] my professor didn't cancel. If I didn't go to class, I was worried that it would have counted as an absence and it would affect my grade."
Later in the day, the university posted the same message they had sent earlier restating that class would not be cancelled and urging students to "use their best judgement" on the SEU Facebook page, which furious students and parents responded to with concerns and criticism.
"My daughter risked her life getting to campus today," Amy Moorhead, a parent of an SEU student wrote in a comment on the university's post. "Classes should have been cancelled from the beginning, especially when the National Weather Service was advising Austin residents to stay off of roadways."
Students made sarcastic comments expressing their incredulity at the university's refusal to cancel class and posted pictures of the flooding on the highway and at St. Edward's own Moody Hall.
"Commuters are supposed to find a way to drive through calf-high water safely?" SEU student Shiva Mirzahaidar commented on Facebook. "There's a tornado warning, yet we are expected to sit in classrooms with windows? This is compromising student safety. Disappointing."
Student Hannah Moorhead asked in the comment section, "Are you serious?" and another student, Alexandria Ruiz commented "Okay SEU, let me dust off the old canoe first."
"Asking the community to use good judgment in travel plans was the appropriate response for the unpredictability of Friday's weather," Diaz said. "In all situations faculty, staff and students should use their best judgment about arriving to campus safely. Members of the university community should always communicate with their faculty member or supervisor if their ability to arrive safely is compromised."