Fiorina wins GOP Debate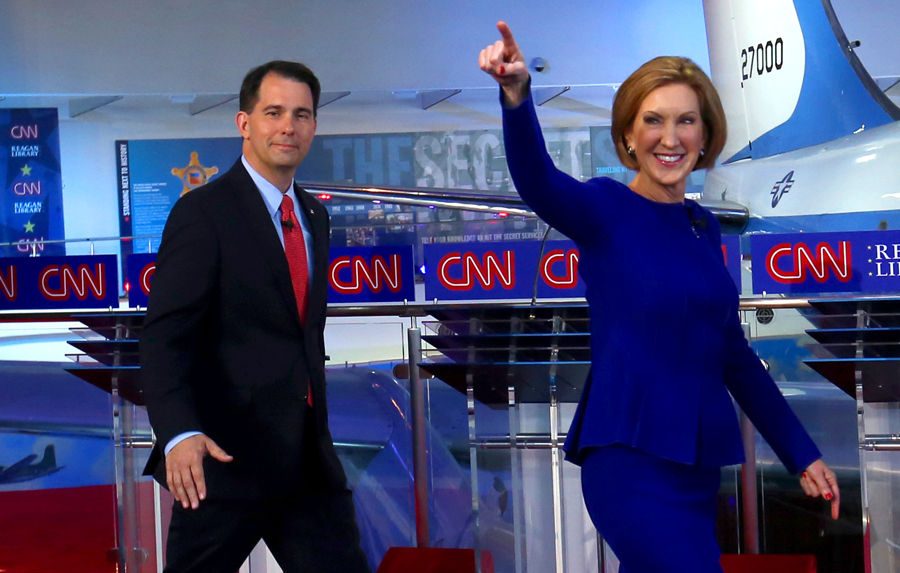 Print Editor-in-Chief | News Editor
September 21, 2015
After the second Republican debate last week, many students at St. Edward's University had some strong feelings about it, according to a Hilltop Views poll.
Of the 84 St. Edward's students that were polled, 14 percent said that former HP CEO Carly Fiorina won the debate; 17.9 percent said no one won. But 21.4 percent of students said that the Democrats won.
Political science professors Brian Smith and Chad Long both said that Fiorina did well, but no one necessarily won the debate.
A CNN poll shows Fiorina jumping to second place with 15 percent after her strong debate performance. Donald Trump continues to be the frontrunner with 27 percent. Other candidates that seemed to do well were New Jersey Gov. Chris Christie and Florida Sen. Marco Rubio.
As for the most talked about candidate, Trump, neither the students or the political science professors were impressed.
"Trump was Trump and he didn't kill himself," Smith said.
Long says he thinks Trump is only in the campaign for ego fulfillment.
"In his mind I think he does think he can be a good president, 'Get me in the oval office and I can put my skills to work' you know. But mainly I think it's just feeding his ego," Long said.
Sophomore Colton Towns believes Kentucky Sen. Rand Paul won the debate because of his positions on foreign policy. He's keeping an open mind, though.
"I'm also interested in Ben Carson," Towns said. "I think that he is one of the most intelligent candidates and has great economic policy ideas."
Junior Greg Reck believes Carson won the debate, but he's currently supporting Democratic presidential candidate Bernie Sanders.
"However, I would be willing to consider voting for another candidate depending on how the primaries go," he said.
The first candidate to drop out of the 2016 race was Texas' very own Rick Perry. He dropped out on Sept. 11.
On Monday, Wisconsin Gov. Scott Walker walked out of the 2016 race fulfilling Long's prediction that he or Paul would be next to leave.
As for who will be the Republican nominee, Smith says it's too early to tell. Long disagrees.
"Jeb Bush or Marco Rubio. If I had to put money on it, it would be one of those two," he said.
Long said it was still unclear as to who would win the White House in 2016. History points to a Republican, but the electoral map points to a Democrat.
"In this decade, [the electoral college] favors the Democrats," Long said. "If I had to put money I would say it's more likely for a Democrat to win just because it's more difficult for a Republican based on the electoral college right now. But the American people are hesitant to put a Democrat in the White House three times in a row."
The last time voters sent a president of the same party as his predecessor was Republican George H. W. Bush after Ronald Reagan in 1988. For the Democrats the last time they won three consecutive presidential elections was under Franklin D. Roosevelt.
An overwhelming amount of students polled said they were supporting Sanders for president. One of those students is senior Jesse Plaza.
"We need and deserve leadership that doesn't appeal to our idiotic worship of power and money," he said.
However, the young vote will not decide any election, Smith told Hilltop Views during the 2014 election. 
"What do you call a campaign that targets new voters and young people? Loser," he said in the article.
Long was not surprised about the poll showing students favoring Sanders.
"He tends to get college educated, white, young, well-off people, that's who support him," Long said. "But that's not what the [U.S.] looks like. … If he came to Austin I'm sure he would pack the house, but when he's talking to those middle class voters, blue collar voters, minority voters, that single mother raising two children, I don't know if he'd appeal."
Sanders, Long said, is appealing to what he calls "Starbucks Democrats." These are Democrats who are upper-middle class that focus on social issues.
"But you got to win the Walmart Democrats too," he said. Walmart Democrats are people who are lower income and really only care about issues that affect their pocketbooks.
"If you look at where he's drawing his crowds, where his basis of support is, those places do not reflect the demographics of the rest of Americans," Long said. "Unless he gets out — I mean I guess he could win Iowa and New Hampshire — but as the race expands to the rest of the country he'd have a very difficult time defeating Hillary."
"The Democrats are hoping that their supporters will 'date Sanders, but eventually marry Clinton,'" Smith said.