Author of freshman common text speaks about inequality, injustice
Students had the opportunity to attend a lecture led by Bryan Stevenson on his book chosen for the freshmen common text, Just Mercy: A Story of Justice and Redemption.
Bryan Stevenson is the executive director and founder of the Equal Justice Initiative, a nonprofit law firm that disputes racial discrimination and injustices in the legal system.
He has made huge headway in the legal system, appearing before the Supreme Court five times, getting multiple prisoners exonerated and others a stay of relief.
In his memoir, Stevenson recounts the various challenges in his career as a defense lawyer for the unfairly condemned. The novel follows the author's fight to free one wrongfully imprisoned man while being interspersed with accounts of other egregiously unjust cases.
The alarming statistics and testimonies in the book shed light on the largely unknown injustices in America's legal system and prisons, as well as the tacit shame of racism that still pervades this country.
Alexandra Barron, the director of the Freshman Studies Program, said that a committee of faculty and students choose the book that they consider best reflects the university's principles and will engage students, even over the less studious months of summer.
"We want to choose something on a topic that we think is important and says who we are as a Holy Cross institute, something that shares our values and communicates our values… And (in) a lot of our conversations, we went back to the St. Ed's mission statement… (which) says we as a university will confront the critical issues of society and seek justice and peace, and to me I feel like that's what this book is doing."
Another criteria for the common text is the goal of challenging preconceptions and changing the way people think about the justice system and racism.
"Before reading the book, I thought that the death penalty was a good way to lower the criminal rates in America. But, after reading the book and seeing how many disabled or mentally ill people were (being tried) to be put on death penalty," freshman Hannah Stavis said.
"It's not fair. They're going to be sentenced to the death penalty or incarceration forever because they can't defend themselves."
The RCC was packed with students, faculty and guests, all eager to hear Stevenson talk. In his moving lecture he defined the four pillars that he believes could empower the community to create more justice: proximity, changing narratives, protecting hope and doing uncomfortable things. Throughout his lecture, he interposed stories from his novel, revealing their ultimate relevance to how he realized that truth.
On the pillar of proximity, Stevenson said, "When you get close to people who are suffering, who are struggling, when you get close to the places where the problems are most manifested, it will change you."
"We have to change the narratives that sustain inequality and injustice. We cannot change the narrative by doing what we've done for the last 150 years, which is be silent about this difficulty that we are carrying."
Stevenson's moving message ended on a note of gratification for the opportunity he's had to fulfill his passion for justice and to share it with St. Edward's students.
About the Writer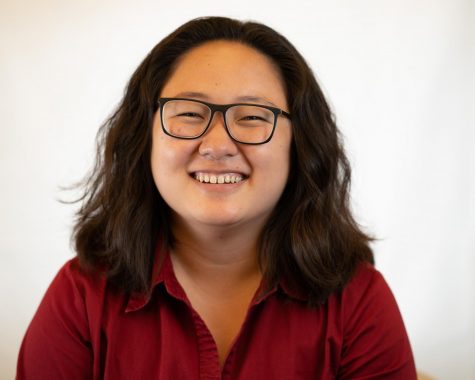 Lilli Hime, Staff Writer
I am Lilli Hime—English Writing and Rhetoric major and freelance writer at Hilltop Views. This is my senior year at St. Edward's University.

My role...