Alumna awarded Fulbright to teach in Brazil, prepares for political race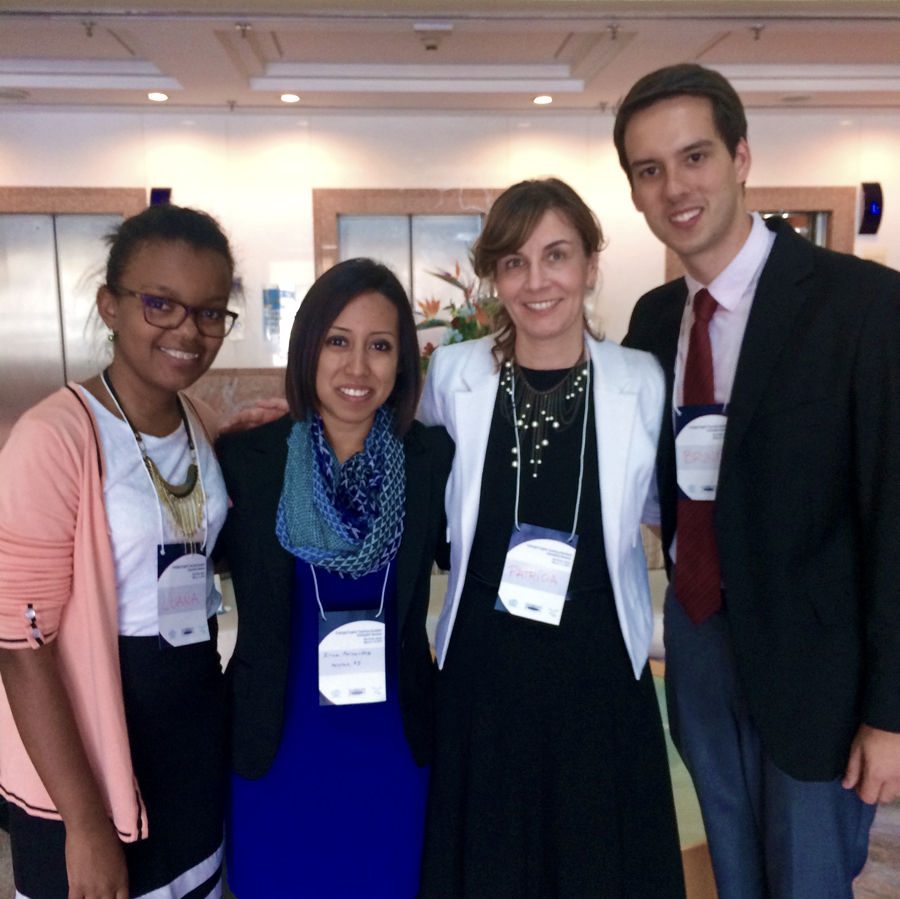 News Editor
March 23, 2015
Irma Fernandez, '13, graduated from St. Edward's University in May 2013 with a major in political science and a minor in Spanish. She was busy during her time at St. Edward's, from working as a Resident Advisor in Teresa Hall to founding and leading Operation T, a non-profit that works to collect t-shirts and distribute them to those in need around the world. After graduating, Fernandez stayed busy.
What brought you to St. Edward's?
I came to St. Edward's because I wanted to be in Austin primarily. After coming for a tour and orientation though, it definitely became more apparent to me that this was somewhere where I could spend a couple of years at, especially after going to Leadershape at the end of my freshmen year, which led to receiving my Brown Scholarship.
What activities were you involved with during your four years here?
While at St. Ed's, I was first involved with the Service and Social Justice Living Learning Community program as a freshman and eventually became an RA for the Global Understanding LLC. During my sophomore year, I worked on building my own organization, Operation T, which I led until my graduation. I was also involved with the Service Break Experience, going to India, Peru and New Orleans, and that was definitely incredibly influential in my life even today.
What all did you do after you graduated?
After graduating, I worked with fellow Hilltoppers Matt Wolski and Mitch Hallmark at Found Media Group as marketing director. By the end of 2013 though, I was offered a position as deputy campaign manager (for Libby Willis) on the most competitive state senate race in Texas and I knew I had to take it. During this time, I also applied and received a Fulbright grant to Brazil. My life between December 2013 and November 2014 was all work, all the time, and I could not have been happier with the chance I got (to work on this campaign) at the age of 23. Despite the loss, I actually think I learned way more from the loss than any potential win.
What led you to work in politics during that time? What issues are you most passionate about?
I've always been interested in politics since I was 10 years old, so I knew that I would eventually work in something political once I was older. (The) St. Edward's political science department sent me to the Democratic National Convention during 2012 as well and funny enough I interned for Fox News. After the DNC, I worked on the Obama campaign in 2012, initially as a volunteer and then was offered a position as a field organizer. I actually took a semester off to take the job with Obama! I'm already excited to get back to the states and get ready for the 2016 cycle.
When it comes down to it, it's hard to narrow it but my three biggest issues are women's rights, immigration reform and properly funding public education. Right now, Texas is not exactly a place that does that and I'll continue to work for equality in the state that I love.
What are you up to now?
Right now I have just began my Fulbright grant here in the city of Pelotas in Brazil. I actually just got back from a week long orientation in Sao Paulo! I'm responsible for assisting in the English without Borders classrooms and "internationalizing" the university campus where I will be working at. I (have) yet to step into the classroom, but thus far Brazil has been great even with my limited Portuguese. The people are friendly, the food is fried and the weather is hot – life is good. I actually have a blog where you can follow my adventures – thisisirma.com.
Where do you see yourself in five years? 10?
In five years, I hope to have two more campaign cycles under my belt and to be working for a consulting firm in Washington D.C. so I can be involved in multiple races across the country. In 10 years, I hope that I will have my own consulting firm. I don't think I will want to bow out of the political arena but if I do, I would be interested in pursuing a masters in Political Administration and Public Policy at Northwestern.
What do you miss most about St. Edward's?
I miss the culture of community and the desire to serve the surrounding community. It isn't until you leave the Hilltop that you realize just how special that kind of atmosphere is.
If you could offer any piece of advice for graduating seniors, what would you say?
Stay hungry, stay humble and keep learning.
Follow Audrey for more!