Comedy Central's 'Review' is fresh, grounded while ridiculous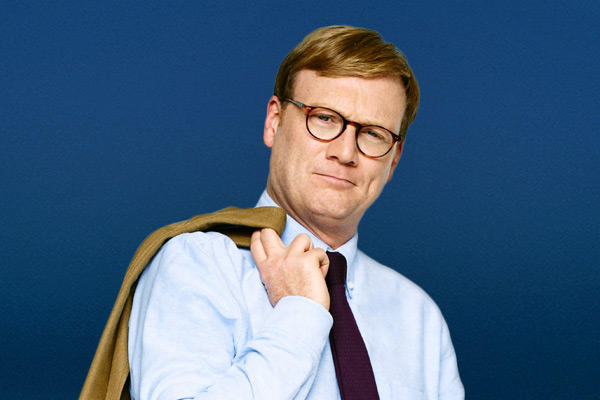 Life & Arts Editor
April 20, 2014
In the past, Andy Daly has been cast in supporting roles in comedies where he always shines. A starring role is long overdue for the comic actor, but it seems like Comedy Central's new show "Review" was made for him. Which it kind of was, since Daly is credited as the show's creator. But that does not matter, because he is perfect as the possibly insane reviewer Forrest MacNeil.
Based on the Australian comedy series "Review with Myles Barklow," Daly's version follows the same premise of a man who has his own television show where he reviews not books, not movies, but every aspect of life. People email, tweet or Skype in to submit their questions for MacNeil, such as the first episode's three topics: what it is like to steal, to become an addict and to go to prom.
MacNeil must then fulfill the requests of his viewers, discovering what it is like to experience these wildly different life events and then rating them on his self-proclaimed patented five-star system. Stealing gets two stars, while his cocaine addiction only gets half a star.
As their own separate sketches, MacNeil's reviews are all hilarious and absurd, but what the show does that elevates it to new levels is weave in each topic throughout the episode. Such as when MacNeil finally goes to prom, he uses the skills he learned in the stealing segment to take the wallet of his high school bully (now a coach and chaperone at the dance), which he then uses to buy cocaine for himself and his new high school friends. As you can tell, the show goes to ridiculous places, but Daly's likeable portrayal of MacNeil keeps everything grounded and believable, never veering too far into "wacky" territory.
Another smart thing the show begins to do as the season goes on (starting with the incredible third episode "Pancakes, Divorce, Pancakes") is integrate a serialized storyline about MacNeil fighting for his marriage. The activities MacNeil partakes in are oftentimes insane (the aforementioned addiction, "being a racist"), and for reasons the show does not make clear, he does not inform his wife of the reason he is doing them. This may be so that his reviews are completely unbiased, but regardless, it is an understandably huge strain on his wife.
The show does a great job balancing the craziness and stupidity of what MacNeil is doing for his show with the very real drama of his crumbling marriage. Only seven episodes in, it has done a lot of work in getting viewers invested in Daly's character and his struggle, while still bringing huge laughs within his review segments, which are sometimes affected by his emotional state.
"Review" is one of the freshest programs Comedy Central has premiered in a while, bringing new energy to the mockumentary genre which has begun to grow stale and predictable in recent years. You can watch episode highlights online at Comedy Central's website and catch the season finale on April 24.