Tuition to increase by 8.49 percent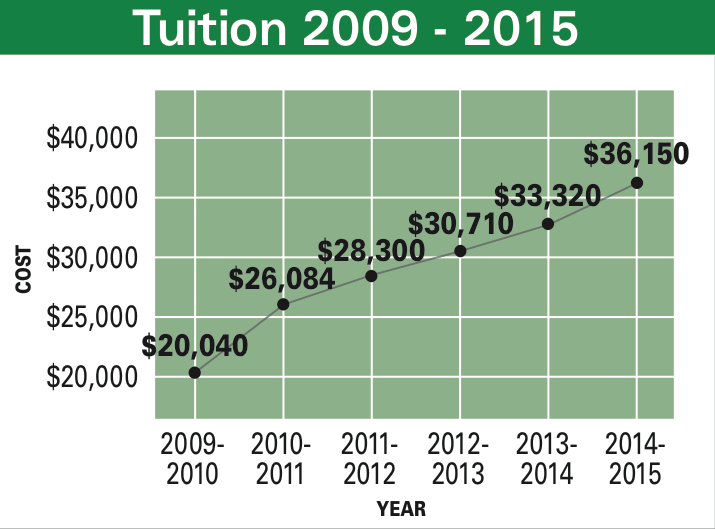 News Editor
April 21, 2014
For the 2014-2015 academic year, St. Edward's University is increasing tuition to $36,150. This is a $2,830—or 8.49 percent—increase from the current academic year's tuition rate at $33,320.
Vice President of Financial Affairs Rhonda Cartwright said that these increases are necessary for the university to keep up with rising expenses. Unlike some schools, St. Edward's is a tuition driven university, which means that the university's operating budget relies heavily on tuition and not a well-developed endowment fund.  
"Tuition increases are necessary to provide additional operating funds for things like increases in financial aid, raises for faculty and staff, increases in utilities— classrooms and common areas— and increased cost of property insurance," she said. Cartwright also cited liability insurance as an increasing expense.
Cartwright pointed out that St. Edward's remains competitively priced in comparison to private schools of similar caliber in Texas. However, St. Mary's University's tuition is $25,480 for the 2014-2015 academic year, Baylor's is $34,480 and Trinity University's will be $36,214.
Just five years ago, St. Edward's tuition was $20,040 per year. There has been an 80 percent increase in tuition since the 2009-2010 academic year. If tuition continues to rise at this rate, it will have doubled by the 2018-2019 academic year, starting from the 2009-2010 rate.
These rates do not include many other student expenses, including housing, parking permits, meal plans and technology fees — all of which have increased in the past five years. The estimated total cost for an incoming freshman for the 2014-2015 academic year is about $45,000. This number fluctuates based on housing and meal plan options.  
Current seniors have seen their tuition rise each year at St. Edward's. One senior, Ashley Lara, is graduating a semester early so that she can avoid paying for an eighth semester. She dropped her Spanish minor so that she could finish early. She is completely independent from her parents and receives no financial help from her family.
"I had to weigh the options big time. I needed to get out of St. Ed's as quickly as possible," she said.
Lara, who has nicknamed her college career "Game of Loans," is going to graduate from St. Edward's with $25,000 in debt. She said this number is lower than it should be because she has a "B-On-Time" loan that turns into a grant if the student graduates within four years with a 3.0 GPA or higher.
She said that she has had to take out more loans throughout her college career to combat the rising costs at St. Edward's, but she has done everything in her power to keep the extra loans to a minimum.
"I have had to become very resourceful. I have sold clothes to consignment stores, sold purses on craigslist and even worked three jobs at once because I was in such need," Lara said.
Recently elected Student Government Association president, Samantha Mendoza, campaigned on a platform that emphasized a need for more communication between the university and its students on issues like tuition. Mendoza is a Resident Assistant at Hunt Hall, and she said that four of her residents transferred from St. Edward's because they could no longer afford the university's tuition.
"Maybe we can't change the rising tuition because the school is growing, but I think there needs to be a way for the administration to better communicate," she said during Hilltop Views coverage of the SGA elections. "It's frustrating for students when we see our bills rising, and we don't know why."
One communication problem that many students have voiced is that they did not know that their tuition rates could go up from year-to-year until they see the new prices online.
When sophomore Alina Cahill saw the tuition increases after her freshman year, she was in shock. "Most students assume that their tuition rates will remain as steady as the education they are receiving," she said.
Cartwright said that the university has considered a fixed tuition rate — a guaranteed rate for all four years at the university — but said that it would be too much of a burden on incoming classes.
"If we didn't increase tuition for continuing students, we would have to impose significantly larger price increases for incoming freshmen. Such a guarantee places any needed increase to the budget solely on the shoulders of the incoming class," Cartwright said.
Although tuition rates are increasing, financial assistance will also increase by $7.7 million, according to Cartwright. In Fall 2013, 88 percent of freshmen received a scholarship or grant from the university, and of those students the average assistance awarded — some need based and some merit based — averaged $19,700 per student.
The numbers for Fall 2014 will not be available until the semester begins, but Cartwright said that there is not an expected change in the percentage of students receiving aid.
Cartwright said that continuing students can apply for more scholarships like the Faculty and Service Scholarships. She also said that students should visit their financial advisor if they have any questions or concerns about finances.
"My adviser has helped me find ways to continue my education. I find them very soothing when it comes to my anxieties about paying for school," Lara said.
Follow Shelby on Twitter @shelby_sas