MAC Lead conference spurs discussion on human rights issues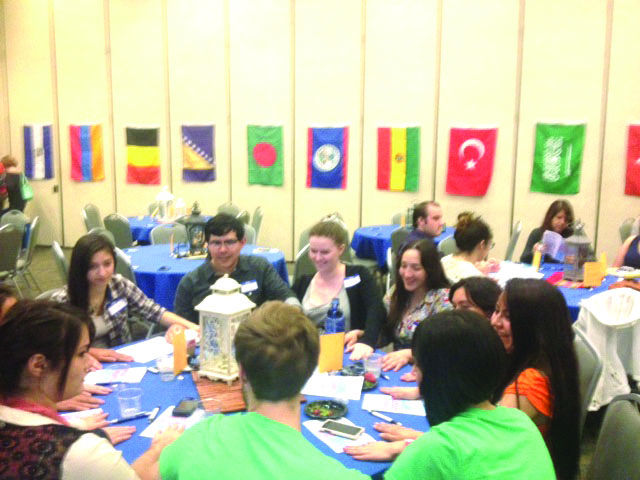 On March 21 St. Edward's University Multicultural Leadership Board and Hilltop Leadership Development hosted the annual Multicultural Awareness Conference for Leadership, MAC Lead. 
The conference focused on the university's 2013-2014 common theme— Expanding Human Rights. The keynote speaker and workshops were centered on the theme and looked at human rights issues from various perspectives and welcomed diversity and student dialogue. Over 50 students attended the event.
"The goal is that students gain a better understanding of their own identities, a better understanding of diversity on the St. Edward's campus, and to overall engage positively with others of difference," said Lindsey Walker, the assistant director of Hilltop Leadership Development.
Walker along with Joy Torres, the assistant director for the Multicultural Leadership Board and Michaela Larson, a senior and associate director for the student leadership team, helped create the MAC Lead conference this year, which they started planning for over five months ago.
The group helped gather a combination of professors and student organizations to lead workshops. The sessions at the conference ranged from the Muslim Student Association discussing human rights in Islam and the student organization PRIDE discussing lesbian, gay, bi-sexual and transgender awareness. One workshop was even centered on Harry Potter and its ties to human rights.
The combination of both professors and student organizations helped integrate the issues being discussed to a more relatable viewpoint. Rather than having solely professors discuss and lead conversations, several students in attendance pointed this out.
"I expected to go sit and listen to a professor but instead there was an even mix of students and professors discussing issues that matter to all of us," freshman Caitlin Laughlin said.
"It was good to see the students of St. Edward's represented and integrated evenly throughout," freshman Rachel Hyde said. 
For the first time, MAC Lead was also open to students from Southwestern University in Georgetown. Larson said that they made this change "in hopes of expanding the dialogue to others and not just St. Edward's students."
Larson, who had attended the MAC Lead conference previously, said that it helped change her global outlook, and she hopes that this year's attendees had a similar experience.
"Even if they [the students] meet one person here who shares their views or even some different views. I'm hoping that that causes them to leave here with inspiration on how to change our global community even if they just look at how to change their own lives," Larson said.
After the conference, several students claim that this was indeed what happened.
"I'm definitely coming again next year. It helped me evaluate myself and the world I live in," Laughlin said.