English professor prepares to publish second book of poetry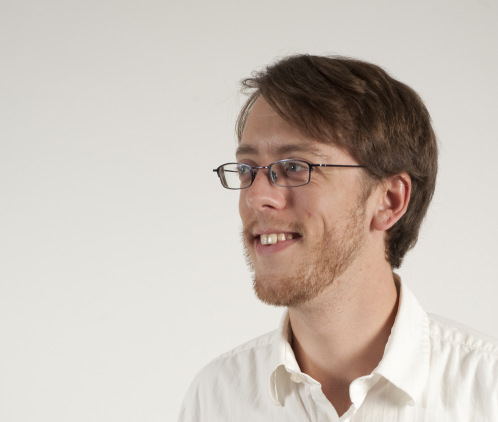 Reporter
September 24, 2013
Nick Courtright is the St. Edward's University professor that begins his semester stating: "Don't call me sensei, because that'd be weird." He is the professor that does not like Cheetos, "always sort of imagines people who are living on a limited budget are on the Doritos and tacos diet," and pushes students not to find intrigue in him, but to find intrigue in themselves.
Perhaps Courtright is more interested in learning about his students than in speaking about himself, but he has plenty to talk about.
When he worked for The Austinist, he was the Interviews Editor—which, to put in relatable terms, means that he has interviewed people such as "Weird Al" Yankovic, Paul Giamatti and musicians from bands like MGMT and St. Vincent.
Courtright teaches classes such as Media and American Culture, Methods and Applications of Philosophy, and Survey of Romanticism, among other literature and writing courses.
Naturally, those are the jobs he considers adjunct to his true passions—writing and family. Despite a busy schedule, Courtright is still able to have a life with his wife Michelle Courtright and child, William.
Courtright said he is "…interested in philosophy…I do like to explore the major questions of…metaphysics, ethics, epistemology—[I like to] try to sort these things out; ask the big questions…"
In 2010, Courtright's first chapbook, "Elegy for the Builder's Wife," was made available from Blue Hour Press. His first book of poetry, "Punchline," was published in 2012 by Wake Press and was a finalist for the National Poetry Series. 
Courtright explained that a writer must "…write an insane amount of material and then whittle it down." He explained that his first poetry book was approximately 30,000 words until he "whittled it down" to the standard poetry book word count of 5,000.
Always adding to his list of work, Courtright has also been published in a multitude of literary journals including The Southern Review, Kenyon Review Online and Boston Review. But if one were to read his books, would they have the answers to life's big questions? In February of 2014, Nick Courtright's newest book, "Let There Be Light," will be released and will cover more of life's big questions.
"It still refuses to provide any firm answer," Courtright said, "so there's that."