New Works Festival: Original play scripts produced by students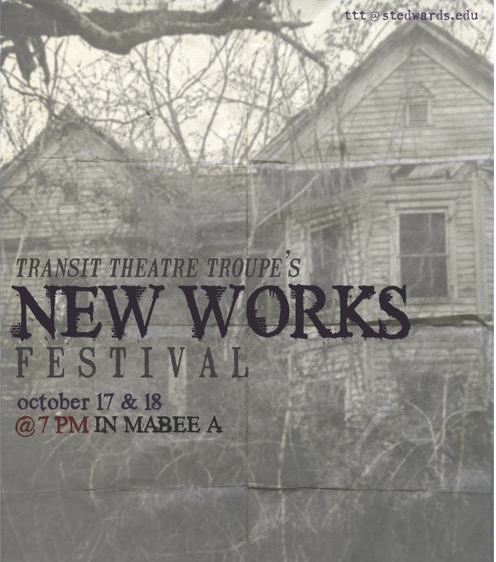 Transit Theatre Troupe's New Works Festival is a chance for young writers on campus to have their work produced by student directors, actors and designers.
Students from all departments on campus submitted short plays and the Transit officers selected the six that best fit the theme of the festival.
For the past two years, New Works has been centered on the year's theme for Freshman Studies. The theme this year was "Sustainability and Dystopia."
Freshman Bret VerVoort is making her debut as a director in the New Works Festival.
"Theatre is something I have been involved in since high school … Here in Transit, the interaction between play writers and directors is interesting. It is challenging, being a director–you are always thinking 'How can I bring it to life?'" VerVoort said.
VerVoort will be directing "The Last Drag," written by junior Meagan Solis.
"The Last Drag" is about a couple–the boyfriend has been wounded in the zombie apocalypse and the girlfriend finally gets a chance to share the resentment she has felt now that she is equal with someone that has held control for so long.
"I want to experiment with my writing, to challenge myself. I think short stories are where I want my writing focus to be, but theatre writing was a really different experience," Solis said.
Solis went on to explain what the festival means to her. "It's student-written, student-directed," Solis said. "It's by the students, for the students."
To get students excited about the New Works Festival, one of the short plays was featured at the Max Brooks Freshman Studies lecture in the Recreation and Convocation Center on Oct. 10.
Taking a spin on Franz Kafka's "Metamorphosis," the short play "The Metamorphosis: 2059," written by Mitch Harris, directed by Krissi Reeves, is about a teenage boy that becomes a cockroach just in time for the nuclear apocalypse.
From the British narrator to the cannibalistic cockroaches, the short play was an overall success.
If this sounds appealing, disgusting or interesting at all, the community can join the Transit Theatre Troupe Oct. 17 and 18 for the New Works Festival in Mabee A Ballroom at 7:00 p.m.