Campus Ministry and students welcome new director to team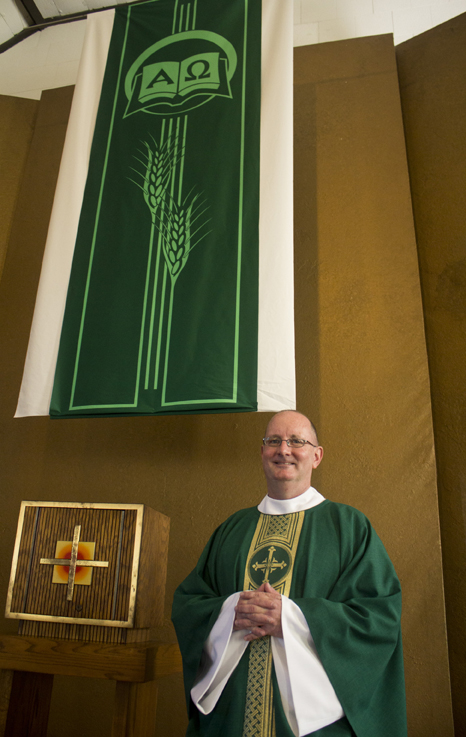 Staff Writer
October 23, 2012
Fr. Peter Walsh, CSC, is the new director of Campus Ministry as of September. Walsh filled the spot left vacant by Fr. Rick Wilkinson, CSC, who was appointed Vicar of the United States Province of Priests and Brothers of the Congregation of Holy Cross in June.
Walsh came to St. Edward's after spending a year at St. John the Evangelist parish in Viera, Fla. Before that, he spent five years at Yale University's campus ministry. 
"I have found [St. Edward's] to be an extraordinarily helpful community," Walsh said. "It has grown to a good-sized university, but has kept that community feel to it."
Since Walsh has been at St. Edward's, he has given Sunday evening mass and had a welcoming party thrown in his honor. On his drive from Florida to Texas, he stopped by the Freshmen Retreat in New Braunfels, Texas. 
This is not Walsh's first time on campus. He spent a month here in the mid-1980s when he was a seminarian. 
"I got to love the campus, even in July," Walsh said. "I have kept my tabs on St. Edward's, so when I was asked to consider coming here it was somewhere I had on my radar as a great place to work."
As the new director of Campus Ministry, Walsh says students have been great at reaching out to him, including at his first mass and his welcome party.
"Father Peter is definitely a great addition to Campus Ministry," junior and a student worker at Campus Ministry Stephanie Wages said. "I am looking forward to all the retreats and just hanging out in Mang House."
Walsh would like to continue developing a relationship with students.
"One of my goals this year is to participate fully as I can to get to know students," Walsh said. "I want to really invest myself as fully as I can in this community."
Walsh is also looking forward to working with the rest of the Campus Ministry team. 
"We have a great staff that Fr. Rick put together, and part of my role as director is to make sure they all get what they need and have the ability to bring their creativity into programs that will help students," Walsh said. 
Walsh is also looking forward to other aspects of life in Austin, including mild winters and the Austin music scene.
"Music is a part of Austin life I am going to like," Walsh said. "It is going to be a part of my fun down time while I am here."
Walsh says he regrets not knowing that the Austin City Limits Festival was going on during his first weekend here and that he would like to have seen some of his new favorites, including the Avett Brothers and the Lumineers.