Natural Sciences Center expansion, library renovation underway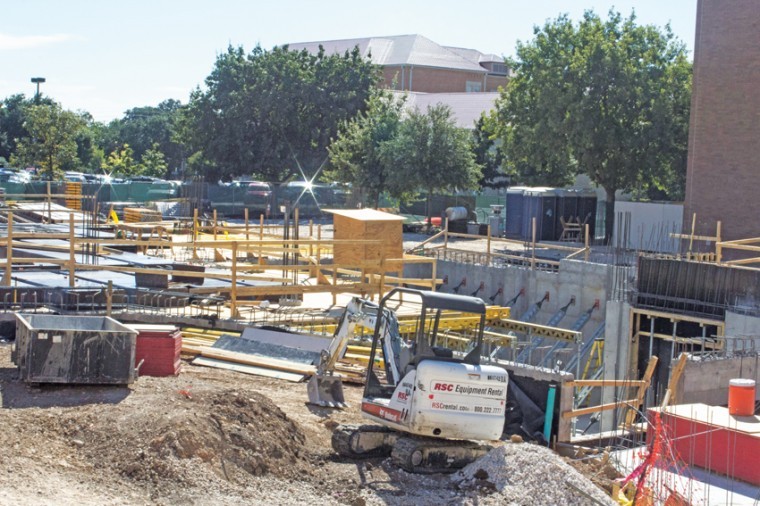 Reporter
September 10, 2012
Last year, St. Edward's University began the construction of a new science building, as well as the renovation of the current library.
Tim Toney, the project manager for the library renovation, said the construction team has made considerable progress in the library's interior renovation.
"We took an active library and took it down, gutted mechanics, fiber-optics and other systems on the inside," Toney said. "At this time next year, they [the students] will be studying in it."
The most important factor in getting the project done in a timely manner has been "the willingness of the design team to work together with contract management staff," Toney said.
The new extension to the John Brooks Williams Natural Sciences Center is also proceeding on schedule, according to Michael Peterson, the associate vice president of the facilities office.
"We are working to schedule and things are going according to plan," Peterson said. "The rains in July that went for eight days really didn't help, but you can't control the weather."
The projects come with some parking concerns for students, however. The construction of the science building has reduced the amount of available student commuter parking due to the loss of the parking lot adjacent to the existing science building.
Current commuter parking options are the parking garage, the lots behind Premont and Doyle Halls, the RCC lots and the side of the road next to the Alumni Gym. Resident parking remains unaffected.
Until the construction projects are completed, Peterson reminds students that construction sites can result in heavier traffic.
"We would like to get the word out that construction sites are inherently dangerous places," Peterson said. "We would implore students to move north of the construction site when driving or walking, and go towards the core of the campus."
Toney said the library is expected to finish on July 31, 2013. The new science building will be available to students beginning Fall 2013, Peterson said.
Additionally, students are reminded that the library has moved to the third floor of Doyle Hall, located in between the arts building and Premont Hall. Students seeking to check books out or do library research can do so at the new temporary library.