Video: ACL Wrap-up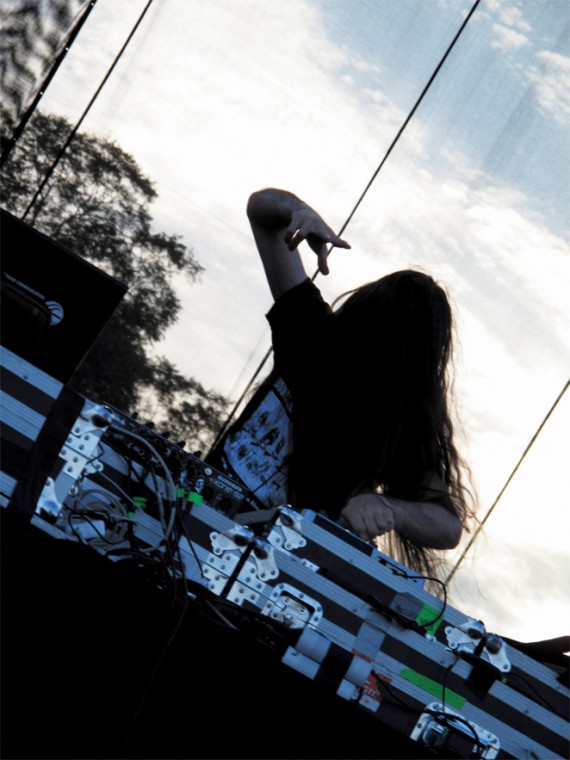 Daniel Garza Kayla Meyer Sharla Kew
October 4, 2009
Friday
The 2009 Austin City Limits Festival started out beautifully on Friday with the most comfortable climate for festival attendees in recent history. 
Coheed and Cambria started the afternoon with a bang shortly after 4 p.m. on the Livestrong stage.   Melodic and harmonized guitars screeched at top volume in between spine cracking riffs as the band channeled Rush and other prog-rock greats to get the audience's collective head banging. 
There's something about electric, overdriven guitars playing in unison and harmonizing with each other that is right at home in a festival atmosphere like ACL.
After the onslaught of all that distorted crunch on the Livestrong stage, festival-goers only had to walk 50 yards to catch Bassnectar on the Dell stage at 5:30.  Substituting soaring guitar riffs for crushing bass-beat enlivened mash-ups was a refreshing change of pace and a shining example of electronic music that is usually underrepresented at ACL.  Thievery Corporation was another nice change of pace at 6:30, and served as a much needed wind down with their subtle beats and jazzy vibe. 
Next up was Reckless Kelly, whose Texas-country jams helped bring it all back home with a reminder of just what state we were all grooving in.
After battling through fortified fortress walls of camp chairs in the failing sunlight, I discovered a decent spot to enjoy Kings of Leon, the Friday headliner.  Although many probably stuck around to hear the band's radio saturated hits, Kings entertained the crowd by giving them what they came for as well as choosing some tasty other selections that helped bring the night to a close on a high note.  The almost universally adored "Use Somebody" stood out above the others as a fitting end to a very satisfying beginning for this year's ACL.
Now if only something could be done about the brutally long taxi pickup line…
Saturday
Saturday was filled with great instruments, immense energy, a heavy downpour and a lot of mud.
MUTEMATH was the underestimated performance of the day bringing plenty of energy, a great stage show and good music.
The crowd echoed the band's energy as lead signer Paul Meany performed somersaults over his keyboard and danced for the fans.  
Citizen Cope brought in a large crowd in the rain as they performed some of their biggest hits, including "Let the Drummer Kick" and "Son's Gonna Rise," along with some tracks from their upcoming LP.
Their performance was mellow, but still managed to energize the crowd. Zac Brown Band brought a taste of country music to the festival, performing on a small stage for a large crowd. A little technical difficulty at the beginning of the performance didn't hold the band back, as they soon had everyone signing every word of their songs.
By the time Dave Matthews Band performed, flip flops were abandoned as the ACL crowd was not only drenched from the consistent rain all day, but from the mud arising through the newly installed grass at Zilker Park.
Thousands of fans showed up at least an hour early for the Dave Matthews Band, some fans staying at the Livestrong venue all day make sure they secured a good spot close to the front for their performance.
Most of the songs Dave Matthews Band performed were from their newest album, "Big Whiskey and the GrooGrux King." 
The show was not without its faults. He ended his performance a few minutes early, leaving enough time for at least another song. The band exited the stage to the chants of "one more song." Others were upset that he didn't play some of his biggest hits such as "Crash Into Me," "The Space Between," and "Everyday."
Overall, Saturday at ACL hosted great music and a lot of wet clothes.
Sunday
Mud. There was a lot of mud. So. Much. Mud. But it didn't rain. Instead, roundabout 80,000 people stood in large crowds in stifling humidity. It seems to be a law of ACL that there must be some amount of time where you can't tell if you feel awesome or miserable. But there is never any doubt as to whether it is worth it.
At the AMD stage, old-timers The B-52s kicked off with a trippy, optical-illusion backdrop and the trademark bomber hair-dos.
Everyone bounced and sang to "Love Shack" and went crazy when they closed with "Rock Lobster."
The Arctic Monkeys played next and were adorably British. Highlights of the show were "I Bet That You Look Good On The Dance Floor" and a short-lived mosh pit.Next, we surged forward to be in the thick of it for Girl Talk.
One of the techies setting up had those pants that zip off at the knee, and the crowd started chanting "Make Them Shorts! Make Them Shorts!" and "Show Those Legs!" Undoubtedly the most original chant I have ever heard/participated in. 
When Girl Talk finally came on, everyone went absolutely crazy. Toilet paper guns, confetti, crazy lights and dancing fans all added to the frenzy.
We bounced and danced and waved our arms and cheered like mad as he mixed everything from ELO to Kelly Clarkson to Elton John.
The jumbotron showed images of giant cheese burgers and said things like "Throw Both Hands In The Air" and "Throw Your Bra On The Stage."
There was a muddy bra being thrown around soon after. It was an epic, exhausting, ridiculously fun show. Enough to make me completely forget I was standing in mud up to my ankles.
Thank you ACL, you've done it again.